This article contains all release notes for the year of 2021.
March WNWN
In March What's New What's Next (WNWN), you'll find new functionality and a new look for the Docs section and the Calendar, as well as the ability to customize roles.
You also have a new way to get involved with the Filevine community at https://www.filevine.com/community/.
Docs Preview and Expandable Flyout
Filevine's Docs section now includes an expandable flyout, allowing for easier viewing of your files with minimal clicks. You will also see improvements to the previewer, including improved zoom controls, a thumbnail view, and a dark mode option.
Docs+ users can now edit docs and image files from within Filevine and save them as PDFs.
Docs Bates Stamping
Filevine's Bates Stamping tool applies ascending page numbers with footers across multiple documents. Bates Stamping can be used on any MS Office or image files, but all files will be converted to PDFs for the bates stamp.
Calendar
Filevine's user calendars and project calendars now contain new and improved functionality. Calendar updates include new, more intuitive styling along with new functionality, including:
Date navigation:

Calendars now have a date picker for selecting far-off dates quickly and a "Today" button to easily return you to the view with today's date.

List View:

Calendar view now includes a new List View, where users can view their events in a list format.
Roles Setup
The Roles Setup Advanced tool allows Admin users to create, edit, and delete roles. If you use roles for taskflow and project assignments, you can use Roles Setup tool to change role names to match your organization. These changes will be reflected in the Team section and throughout Filevine.
July WNWN
In Filevine's July What's New, What's Next (WNWN), you'll find new functionality in the Docs Section, new ways to filter items, and major updates for Vinesign.
Outlaw Announcement
Best-in-class contract management software Outlaw has officially joined Filevine. Outlaw is an end-to-end platform that automates and streamlines legal workflows, helping companies reach agreement faster.
In the coming months, Filevine will be working to create more connections between the two platforms, resulting in a better experience for all our users.
Docs Move/Copy
Users can now move or copy a document from one project to another directly from the Docs Section. Moving a document to another project will transfer that document from the current project to the one you've selected, while copying the document will create a copy of the document in the selected project. Learn more about moving and copying docs.
Doc Zipping
Doc Zipping allows Docs+ users to download multiple documents and folders in a single zipped file.

When you choose to download a zipped file, a collapsible progress window appears at the bottom left of the Filevine screen displaying any zipped downloads. Learn more about Doc Zipping.
Limit to Project Contacts
Person and person list fields are often used exclusively for contacts already in the project. To make adding contacts to person fields easier, users can now choose to add Limit to Project Contacts as a default filter to the person field. Learn more about limiting to project contacts.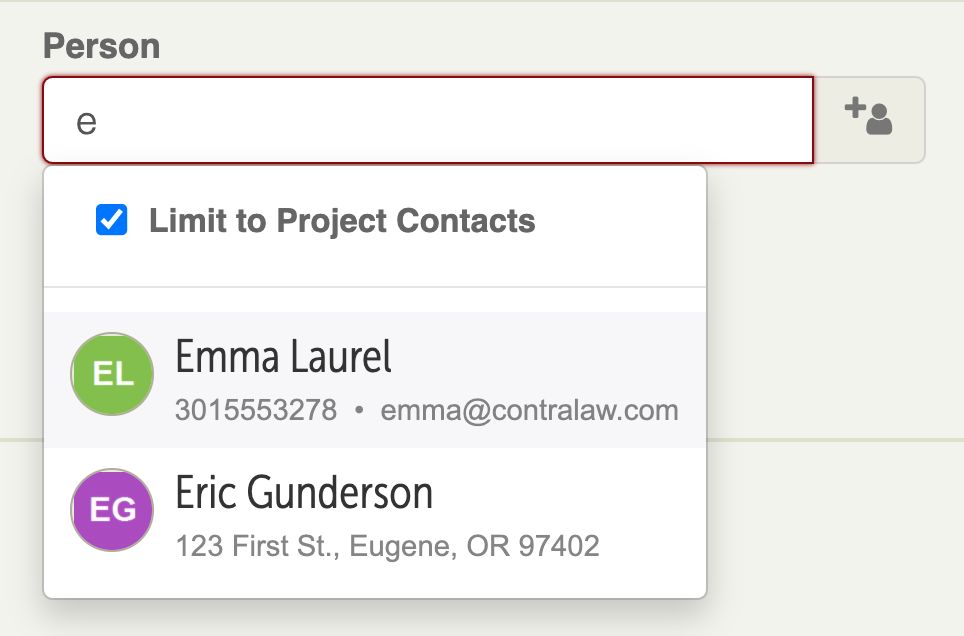 New Filters
Additional filters are now available in the User Feed, Activity Feed, and Task Page. Items in the User Feed and the Activity Feed can now be filtered by:
assigned to [user]

assigned by [user]

completed by [user]

created by [user]
Items in the Task Page can now be filtered by:
assigned by [user]

created by [user]
Outlook Extension Improvements
The Outlook Add-in offers new functionality, including the Outlook Calendar and streamlined doc attaching. Check out more about the Outlook Add-in.
Users can now use the add-in with their Outlook Calendars. The add-in appears along the righthand side of your screen, and you can search projects and access their vitals and contacts alongside your Outlook Calendar.
Click the project email to add the project as "Optional" on meetings, and the meeting will appear on the project calendar in Filevine.
Users can attach documents directly from a Filevine project to an email they are composing. Enter a document name or click through the project's folder structure to find the document you would like to attach, and click on the document to attach it to the email. Multiple documents can be attached.
Vinesign Multisign
Vinesign has released several major updates, including Multisign, which allows users to add multiple signers to a template. This section will give a brief overview of each update. Read more about the recent Vinesign updates.
Multisign allows users to create placeholder fields and signatures for multiple signers on a single document. The document is then sequentially sent to all signers for them to fill out their placeholders.
Learn more about the updated Vinesign process.
Vinesign Template Design and Review Options
The Vinesign template process has improved. Users can now:
add fields for multiple signers in a single template

manage and add signers

make custom fields read-only or required
In the Review & Save and Send pages, users have new options to:
preset signers

change signature settings
Read more on the updated Vinesign process.
Vinesign Custom Messages
Customize the text and email message for your signees. The default message can also be changed to Spanish. Selecting Spanish changes the signee experience (prompts, buttons, and confirmation email) to Spanish as well.
Vinesign Private Jobs and Templates
Admins can now enable private jobs, private templates, or both for any of their users. Learn how to enable privacy settings.
Lead Docket Bulk Changes
Admin users can now update lead status, reassign leads, reassign tasks, and delete tasks using bulk actions. Learn more about Lead Docket's new bulk actions.
Legal X
In the Legal X 2021 recap, you'll find updates to Filevine's document management, including a new navigation view for folders, and new opt-in features for billing in Filevine.
The Docs Section of Filevine has a new navigation view, which allows drag and drop movement for files. Docs+ users also have new functionality for uploading folders.
Docs Navigation View
Filevine users can now open a folder navigation view in the Docs section of a project. This view allows users to see an overview of their folder structure, and to navigate, rename, and create folders more easily. Users can also upload documents directly to a folder.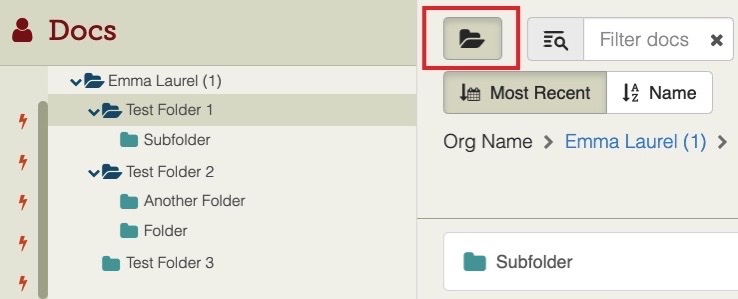 Selected documents can now be dragged and dropped from one folder to another by dragging the document to the desired folder in the navigation view.
Docs Folder Upload
Docs+ users can now upload complete folder structures into Filevine. This feature allows users to upload thousands of documents in a single action while maintaining their folder structure.
When folders are uploaded, their structure will be recreated in Filevine, with all folders and subfolders maintaining their same names and files.
Billing
Several billing features are now opt-in features in Filevine, including calendar and task-based billing time entries and billing in Outlook. Read more about each feature below.
Time entries, including those added with the timer, can now be set up for minimum time increments of either 0.1 hour (6-minute increments) or 0.25 hour (15-minute increments).
Task based billing allows users to create time entries associated with a task in a project's activity feed. Time details can be added to a task, and the task and time information can be added as a time entry when the task is marked complete.
Billing time entries can now be created directly from completed calendar events. Users add time tracking details to a calendar event, and time entries will be added for each assignee with time tracking once the event is complete.
Users of the Outlook Add-in can create billing time entries from the add-in. This feature enables users to easily enter time entries for email-related work.
Flat fee is a new billing entry type that allows users to add fees that are not time-dependent. The flat fee item is a way for users to add billing entries like a monthly retainer, which are neither an expense nor a time entry.
November Releases
In Filevine's November releases, you'll find more flexible ways to adjust the project contact, new ways to share documents, and more.
Filevine Extension in Outlook Mobile App
The Filevine Outlook extension is now available on the Outlook mobile app for both iOS and Android. Users can enter billing time, add attachments to Filevine projects, assign tasks, and take notes--all from their mobile device.
The Filevine email extension has the same functionality within the mobile app as it does on desktop or web, with one small exception: Filevine task shortcuts like @ and @+ function as usual, but the suggested completion dialogue will not appear.
Learn more about the Outlook Mobile App.
Change Project Contact
Project Admins can now change the project contact to an entirely different or new contact, rather than just editing the existing contact.
Project Admins can also edit the root folder name and contact information for a project directly from the project. Once the Project Contact has been changed, the contact label will be removed from the previous Project Contact and assigned to the new Project Contact.
Folder Sharing & Two-Way Sharing
Users can create share links for entire folders, including their files and subfolders. Folder share links now also include a folder navigation view, document list, and in-browser document preview.
For Docs+ customers, Two-Way Folder Sharing allows share link recipients to upload files to shared folders. The uploaded files will automatically be available in the folder in the Filevine project. Learn more about two-way sharing.
Vinesign Bulk Send
Vinesign Bulk Send allows users to send a job to up to 1,000 different recipients by uploading their contact information in a CSV file. Collect signatures from groups by sending your document to a list of signers. Track signature progress for every individual on your list in Vinesign's reports section, from sent to signed.