This article discusses how to set up a Vinesign account, how to add users to Vinesign, and how to change privacy settings for documents and templates.
Vinesign is a tool for filling and signing PDFs that allows users to text or email important documents to clients. For more information on how to use Vinesign, read Vinesign.
Create an Admin Account
The first step to signing up is to create a Vinesign Admin account. The user who signs up will be the Company Admin, and will be able to add new users, run reports to monitor signatures, and see all documents created by any user. While other users can be made admins, the Vinesign Company Admin cannot be changed, so choose wisely.
Filevine can help you set up a Vinesign account. To learn more about setting up an account with Vinesign, contact your Filevine sales representative, or call 801-657-5228 or email info@filevine.com.
Add Users
Once you have created an account with Vinesign, you can then add additional users to that account. Follow the steps below to add users:
Navigate to the Team Tab. On the main page of Vinesign, click the Team tab on the top. This page will show you any users you have.
Click the + Add Team Member button. In the right top corner, click the + Add Team Member button.




Create a team member. Fill out the information in the form. When you are finished, click the Create New Team Member button at the bottom.
Change User Roles
Users can have their roles changed from "User" to "Admin" and back. Admin users have additional capabilities: they can run reports, view, edit, and delete other users' templates, and change user roles.
The Company Admin—the original signee for the account—is an exception to this rule. They will always remain an admin and cannot have their role status changed.
To change a user role, click on the Team tab along the top bar in Vinesign. You will see a list of all users for your Vinesign account, with their user roles listed. Find the user whose role you would like to change, and click Edit to the left of their name.

In the user information, select Team Administrator and click Save. A user role can be changed back at any time using the same process.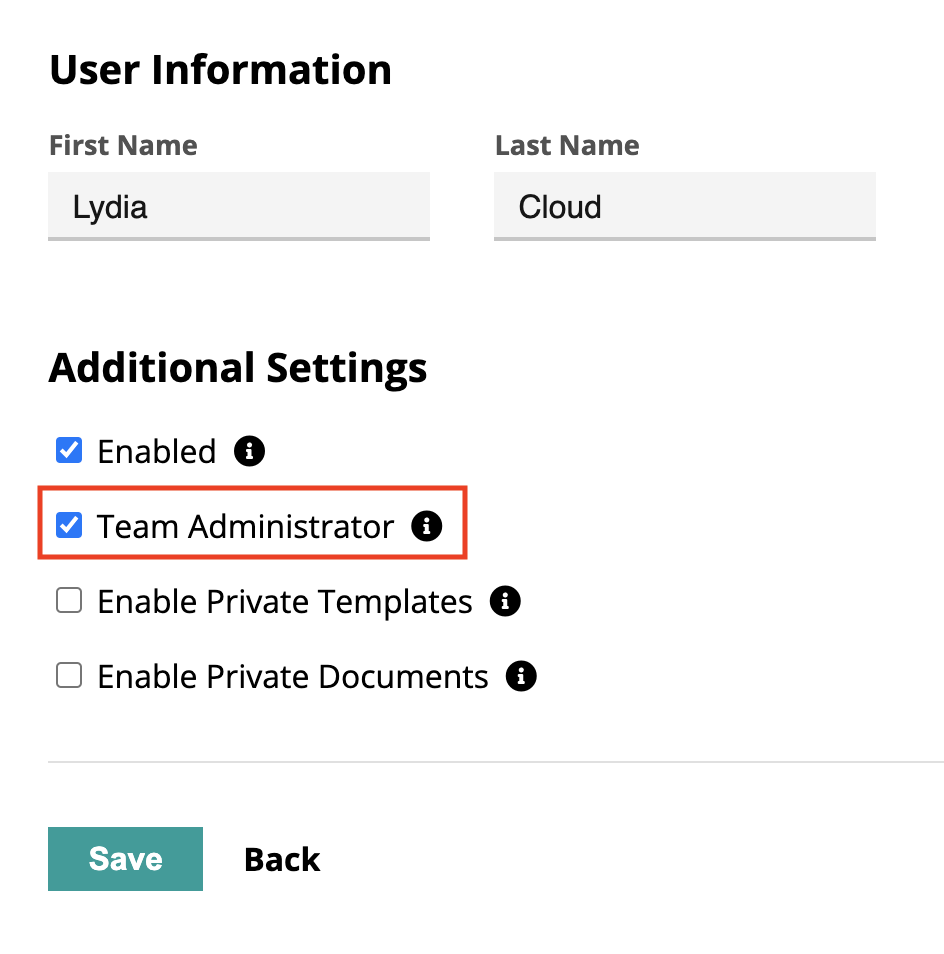 Disabling a User
To remove or disable a user, click Edit to the left of the user's name. In the user information, clear the Enabled option and click Save. The user's status will now change to "Disabled."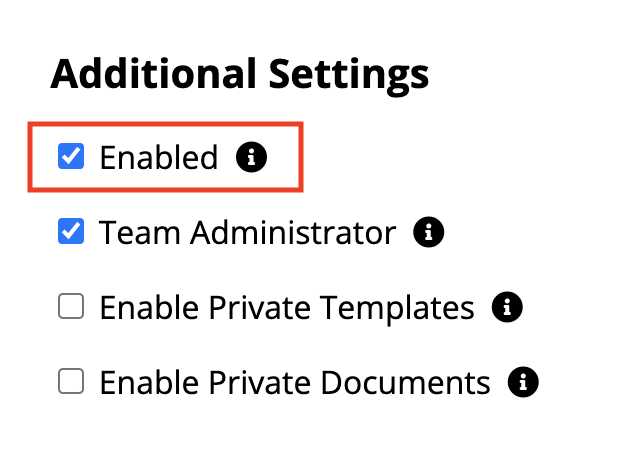 Private Settings
Admins can enable private documents, private templates, or both for any of their users. Documents and templates created by that user will then be accessible only to the user who created them and to any Admin users. Admin users can view and use all templates and see all documents.
Enabling Private Settings
To enable private settings for a user, select Team at the top of the page and click Edit next to the user you want to enable.

Select Enable Private Documents, Enable Private Templates, or both and then Save to enable private documents or private templates for that user.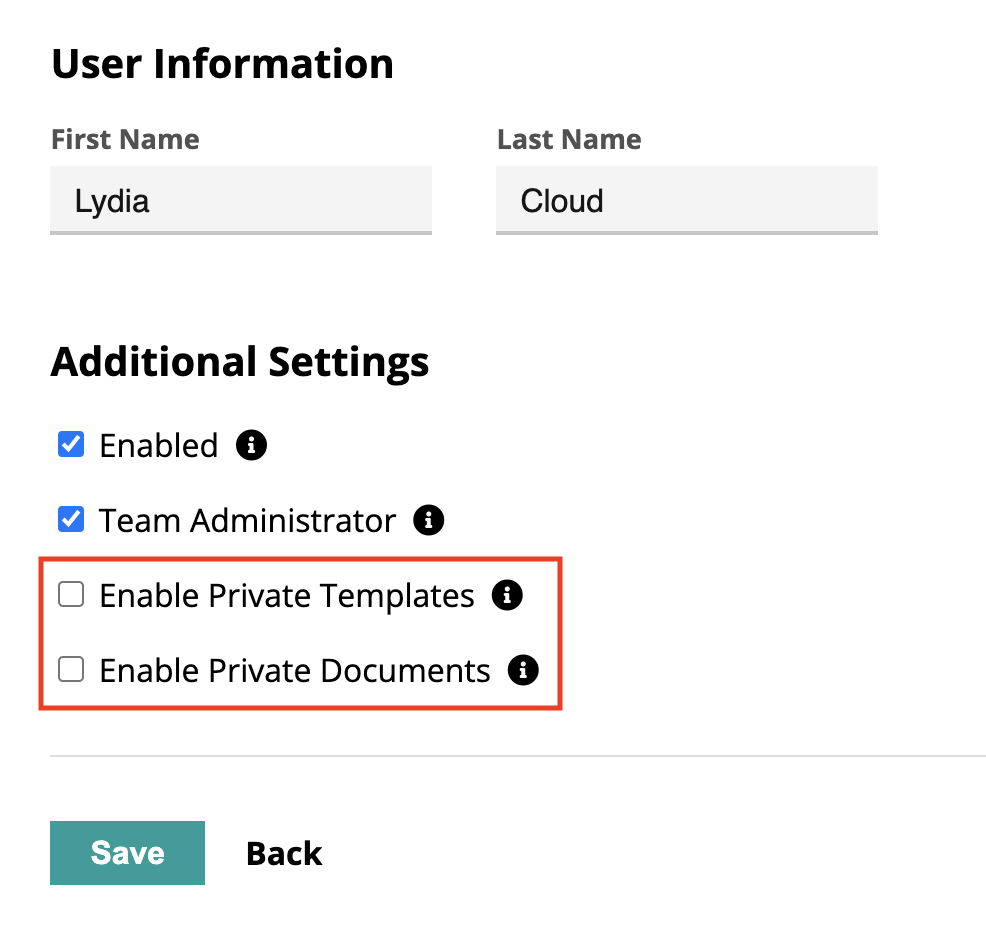 Organization Custom Messages
Custom messages can be set for individual templates or individual documents, but a custom message can also be set for the entire organization by selecting Settings from the top of the main page in Vinesign.
In the Message Settings section of the Settings page, edit the messages as desired. To revert to the default messages, click Load Default. When you've made the desired changes, click Save Changes. Learn more about organization custom messages.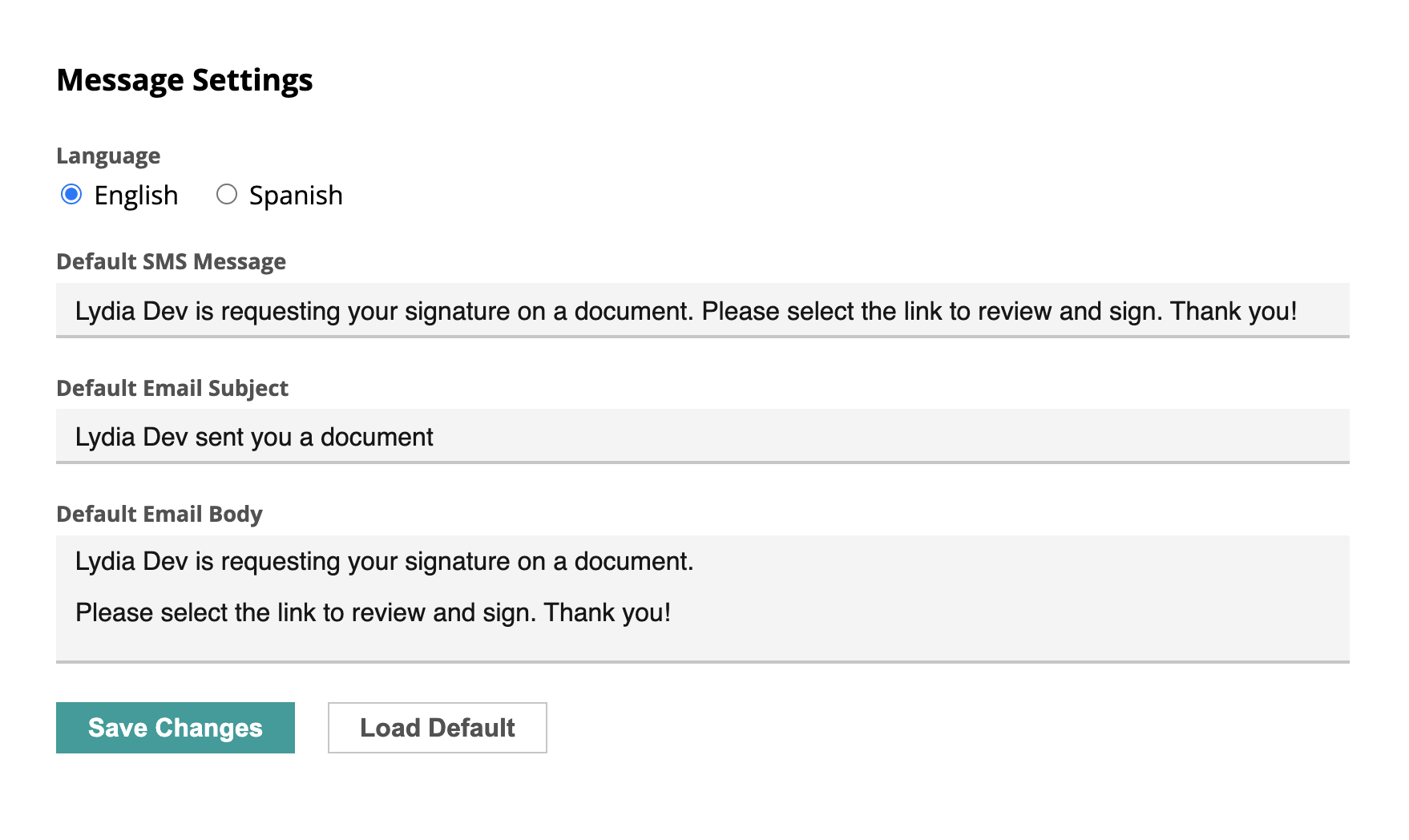 Integrating with Filevine
An Org in Filevine can be integrated with Vinesign. To integrate with Vinesign, send in a support request for a Vinesign integration.