The Roles Setup Advanced tool allows users to create, edit, and delete roles. These changes will then be reflected in the Team section and throughout Filevine. Learn more about assigning roles.
Roles
Navigate to "Advanced" in the main menu dropdown, and select "Roles Setup" from the left side menu. You will see a list of all existing roles for your Org. Roles can now be customized on an Org-by-Org basis.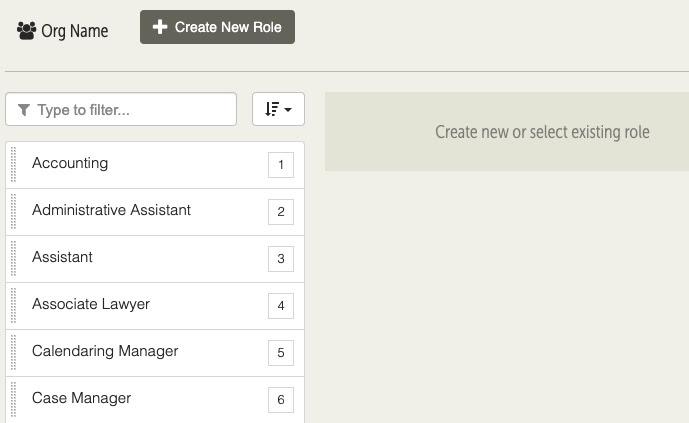 Filter for a role by entering the role name in the search box. The list can be viewed either in display order or in alphabetical order. Display order is the order in which the roles will appear in the project, and can be adjusted either by dragging and dropping roles to new positions, or by editing the sort order of a selected role.
Create, Update, and Delete
Select a role from the list to edit it, or click "+ Create New Role" to make a new one. Editing a role will change the name of that role anywhere it is used.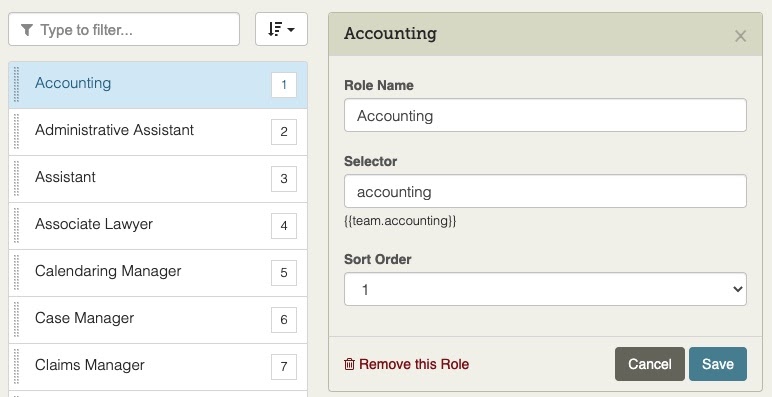 In the role's form, you can edit the role's name or selector, change the sort order, or delete the role. The role's name is how it will be listed in a project. The role's selector will be used for reporting and DocGens in the future, but currently will not work and should not be used in DocGens. The sort order will change where the role appears in the display order.
If the role is not being used, you will also have the option to click "Remove this Role" at the bottom left of the role form. If a role is being used in any taskflow or team assignment, you will not have this option and the role will not be deleted.