In addition to the calendar section in a project, each user has a personal user calendar that includes deadlines and events specific to the user and the user's projects. This calendar can also be shared with other users.
The user calendar displays deadlines from all projects the user is following and events the user has been invited to. The user calendar will not display any events created by team members on projects unless those events have you listed as an attendee (or if you are subscribed). Deadlines will only display for followed projects.
Calendar
Navigate to the user calendar by selecting "Calendar" from the main menu dropdown.

This calendar contains all events, deadlines, and Deadline Chain due dates added to followed projects. Deadlines and Deadline Chain due dates are added to the user calendars of project subscribers when created. Deadlines and due dates appear as all-day events on the calendar, and include the text "DONE" on the calendar when they have been marked complete.
If a followed project is archived, then its events, deadlines, and Deadline Chain due dates will no longer appear in user calendars, although the user is still marked as an attendee for those events.
View
Your calendar can be viewed in month, week, day, or list view. Click on the view button in the top right of the calendar section to select another view from the dropdown.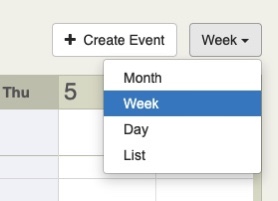 In the project calendar, list view displays all events after a selected date. However, in the user calendar, list view shows a list of all events for a selected week with no gaps in between events.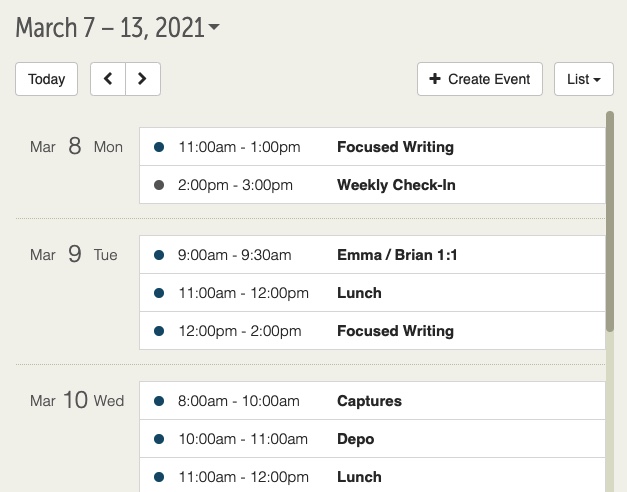 Use the buttons in the top left to navigate forward and backward. Click on the date to open a dropdown date picker, where you will be able to navigate between years and months to choose far-off dates quickly. Clicking the "Today" button will change the date selection so today's date is in view.
Add Events
To add an event in your user calendar, click "+ Create Event" in the top right, or click on any date or hour to bring up the "Edit Calendar Event" modal.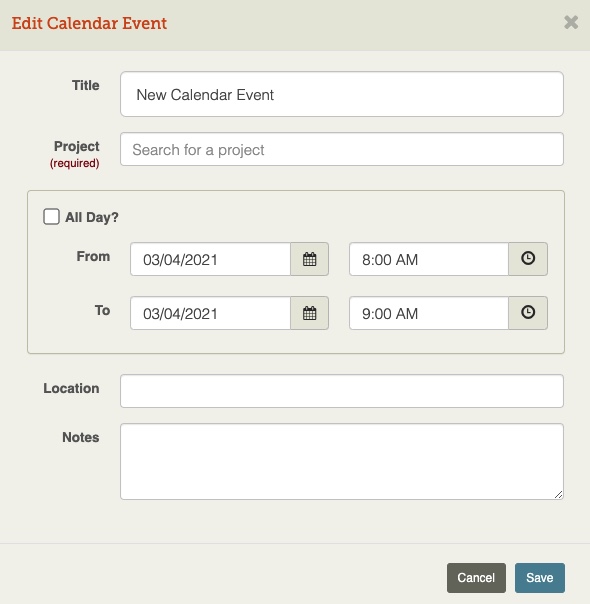 Fill in the name of the event and associate it with the related project. Choose the date, time, location, details, and attendees for the event as necessary. Checking "All Day?" will allow you to create all-day and multi-day events.
When saved, the event will also be added to the user calendars of all assignees and to the calendar of the associated project. Events created in project calendars will also appear in your user calendar if you are an assignee.
Adding Yourself as an Attendee
If you have created a calendar event for a project but don't see it on your user calendar, you may not be listed in the event as an attendee. Go to the project's calendar, find the event, edit the event, and add yourself to the attendees to make sure that it appears.