If you have a question or problem when using Filevine, our support representatives can help. Support for Filevine users is available through chat and email. Sending a support message through chat will give you the quickest response, usually within a few minutes.
If you would like instead to request new or improved features, or provide general feedback, utilize the Resource Center within Filevine.
Submitting a Request
Chat
Chat support is available Monday–Friday 7 am–6 pm, Mountain Time. Chat can be found on Filevine's Help Center. Anywhere on the site, click on the "Chat" speech bubble in the bottom right corner.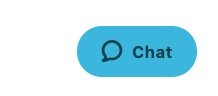 In the opened Support request window, fill out your name and email, choose a department (either Filevine or Lead Docket), and enter your support request or question.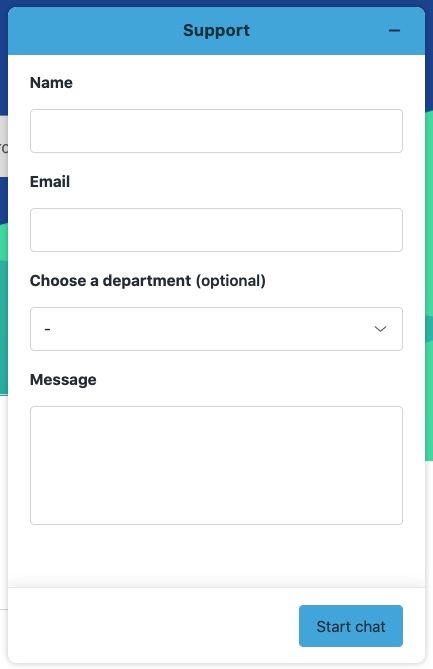 Email
You can also email your support questions to support@filevine.com. You will typically get a response within one business day.
Please make sure to include your firm name in the title of the email. This will help us be more efficient in getting you accurate information.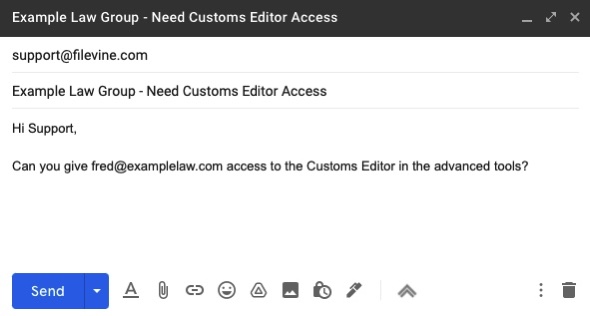 What to Include
Whether you utilize chat or email, be sure to include a full explanation of your issue or full background for your question, including what part of the app you are having trouble with.
It is also a good practice to get a screen recording of the issue, or at least screenshots displaying the issue clearly. Screenshots and screen recordings are very valuable to support, as they display exactly what is going on, and how to reproduce the error.
Screenshots and Recordings
There are many tools that can be used for screenshots and recordings. Techsmith Capture is one free tool that allows you both to record your screen (make a video) and to take screenshots. This tool also creates a simple URL of the recording, which can be easily sent over to support.
To use Techsmith Capture, you will need to download the software, create an account, and allow permissions for Techsmith Capture. Once you've followed these steps, click "launch capture" and use the tool to take either a video or a screenshot. Read more about how to create a video recording. Techsmith Capture can also be used to take a screenshot.
Alternatively, if you use Microsoft software, you can use the Microsoft Snipping Tool to take screenshots.
If you are using a Mac, screenshotting is even easier: press SHIFT + CMMD + 3 to take a screenshot of the entire screen, or SHIFT + CMMD + 4 to capture a section of your screen. Learn more.
Using Chrome Inspect
It may also be useful to check for issues using Chrome's DevTools. To open DevTools, right-click on the affected item and select "Inspect" from the dropdown menu.
You will initially be brought to the Elements tab in the DevTools. To look for possible issues that you should screenshot for support:
Select the "Console" tab along the top of the tool, and refresh the web page. Look for any errors that come up at the bottom of the Console. They will be very clearly displayed in red text.

Select the Network tab along the top, refresh the page, and look for any errors.
If you see any errors in either the Console or Network tabs, take screenshots.
Download Network Data .HAR File
Support may also request a network data .HAR file. Watch the following video for steps on how to export the file.