We strive for excellence, and this includes our platform reliability. However, in the event of degraded performance or incidents, we want to communicate with our users easily.
On the Filevine Status Page, users can view uptime of the platform, check the status of the application, and subscribe to receive updates on ongoing incidents.
Viewing the Status Page
The Filevine Status page can be found in the following locations:
in the header of the

Filevine Help Center



Filevine's Resource Center

At the top of the status page, you will see Filevine's current status. Active incidents will also appear here. Read more about Filevine's incident statuses in the following section.

Underneath the current status, you can view uptime across Filevine environments for the past 90 days. Click the "+" next to an item in the list to view uptime in more detailed categories..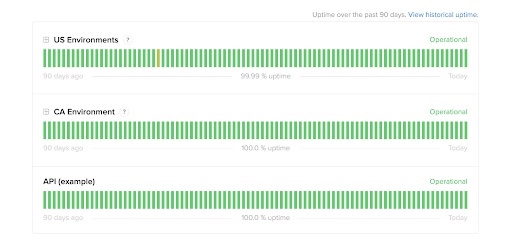 Under the uptime, you can review a list of any incidents in the past 90 days.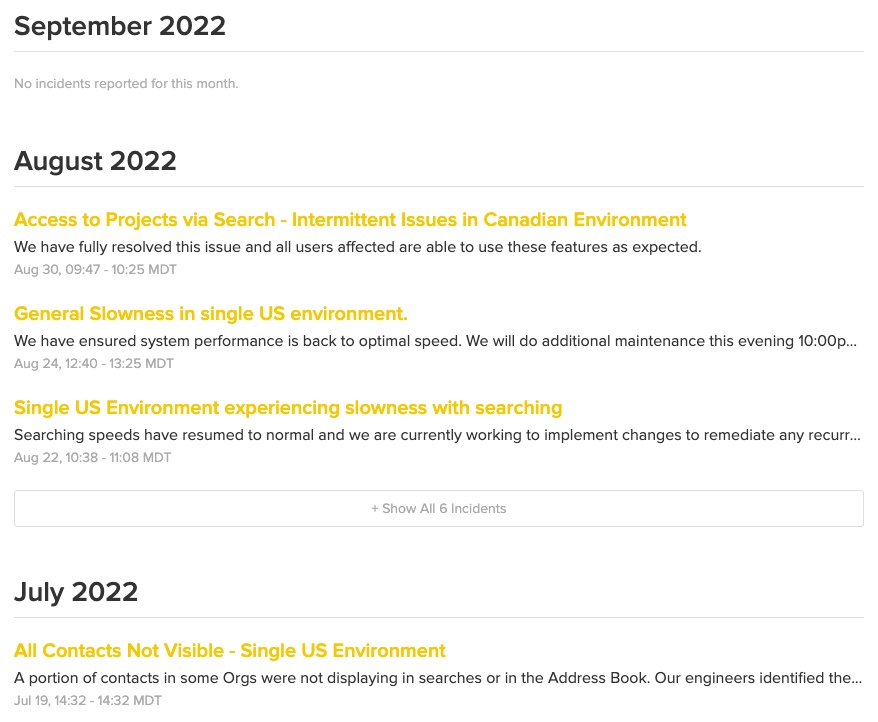 Alternative Calendar View
To review historical uptime in a calendar format, click the View historical uptime button.

In the Uptime tab, you can select the environment or feature you wish to track in the dropdown menu, and view its status over the past three months.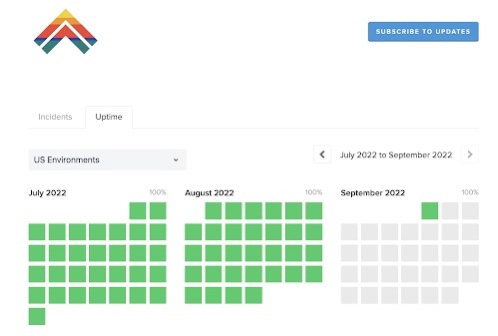 Switch to the Incidents tab to find the list of the past 90 days of incidents.
Incident Statuses
The incidents in the status page are broken into four levels or status categories. You can see these statuses color-coded in the uptime history views.
Operational (Green):

All services and features are available as expected. This status does not include details of support issues affecting users.

Degraded Service (Yellow):

A service is intermittently unavailable or not performing optimally. However, workarounds to gain access to information needed to perform workflows and functions are available.

Partial Outage (Orange):

Key features are unavailable or not performing optimally. These may be negatively impacting larger groups of users, and workarounds or access to needed information may be difficult.

Major Outage (Red):

All users

in an environment are unable to access the platform or features.
Subscribing to Incidents
Users can subscribe to specific incidents or to all updates to receive live alerts via email text message.
To a Single Incident
During an active incident, an announcement will appear on the status page. To receive live alerts and updates regarding the specific incident, users can click the Subscribe button in the announcement and enter their email or phone number.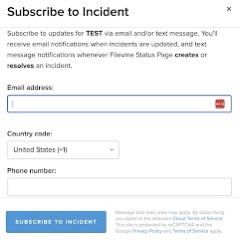 Subscribe to All Updates
Users can also subscribe to all updates for all environments by clicking the Subscribe to Updates button at the top of the status page, choosingthe desired method of communication, and entering your contact information.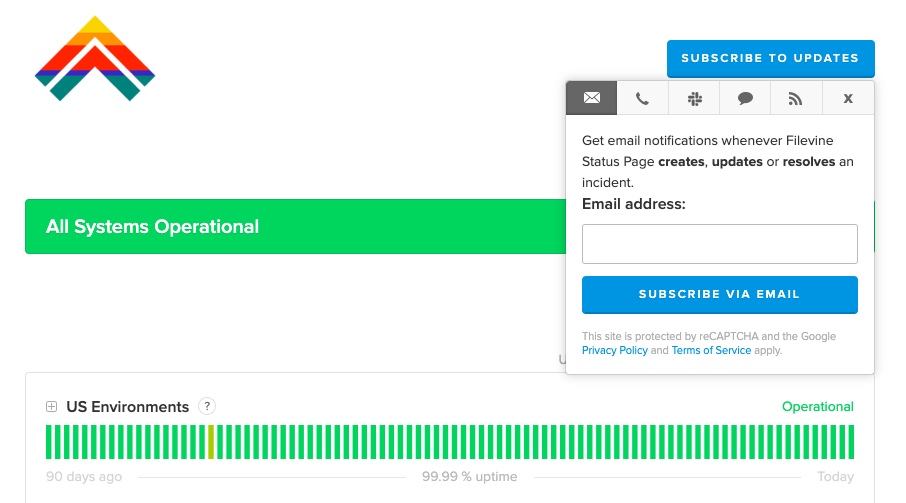 This type of subscription will not tailor the updates you receive, so do not subscribe to all updates if you would prefer to receive specific incident updates.