This article discusses how to use Filevine as a guest, including how to sign up for and log into Filevine and how to view and interact with case information. For more information about what guests are and how to share case data with guests, read Team Status.
Logging In
As a first-time guest, you will receive a "Welcome to Filevine" email prompting you to log in. Click on the link in this email and your email address and temporary password.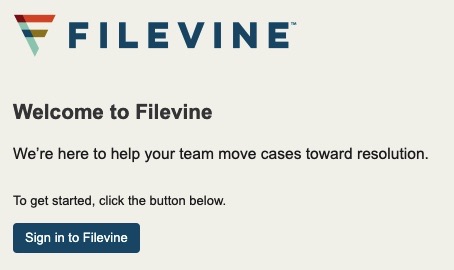 Once you've logged in, change your password and set up other account information. Read Setting Up Your Profile for instructions on getting set up.
For Returning Users
If you've previously used Filevine and remember your login information, you can simply log back into Filevine.
Can't find the email or can't remember your login information? Navigate to the login page, and then click the "Forgot password?" link at the bottom left. Read Resetting your Password for further instructions.
Viewing the Case
Upon logging in to Filevine, you will be taken to your Feed. The Feed can be considered your homepage. If it's your first time logging into Filevine, your Feed may be empty or it may have some notifications related to your case.
To go to your case (known as a project in Filevine), use the "Search for a Project" text box in the top right corner of your screen and begin entering the name of the case. Find the project in the dropdown and click on it. Talk to your firm to receive the name of or link to your case.
In the project, you will see a menu with sections on the lefthand side. ​As a guest, you will automatically have access to both the Activity and Docs sections.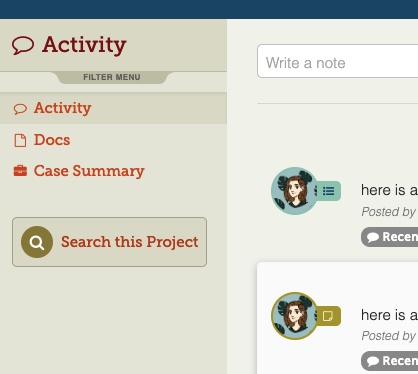 Activity Feed
The Activity section, or Activity feed, is the space in a project where team members communicate with each other through notes and assign tasks. Team members can also comment on notes or tasks in response.
Enter text in the "Write a note" search bar and hit "Create" to make a note for other team members to see.
You can also tag other project team members by using the "@" sign and typing their name or selecting it from the dropdown list. This will make your note into a task, assigning to the tagged user and adding the item to their personal Feed.
Docs Section
The Docs section is the primary location for managing all of a project's documents. The Docs section can be used to upload important documents for all users in this project to view.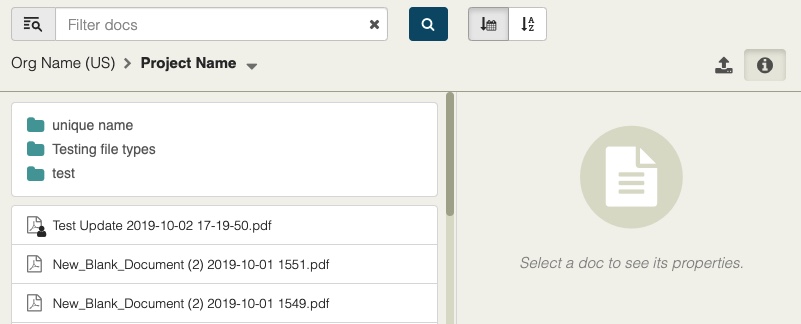 To upload a document, navigate to the Docs section and select the "Upload" icon at the top right. This will open the "Upload" window, where you can add files by dropping them into the "Drop files here" box or selecting the "Add Files" button.
You can also view any documents you have been granted access to and any documents you have uploaded. Doubleclick on a document to open a preview (for all available file types). Click on a document in the list and then click on the information icon in the top right to view more details about the document.
Additional Sections
Your firm may choose to share other sections of the project with you. If you have access to additional sections, these will appear in the lefthand side menu.
For example, your firm may share a section called "Intake" that contains all of the information collected during your initial call or meeting. Your firm will choose to grant you Editing or Read-Only access to additional sections.
Note: Guest users cannot download or view attached files in additional sections, even if that file has been shared with them. Guests can view or download shared documents either as attachments in the Activity feed, or in the Docs section.
Viewing
Contacts
Guests may be able to view and edit person fields, depending on their permissions. However, guest users are unable to view a full list of contacts for the Organization. This means that as a guest user, you will not be able to confirm whether a contact already exists.
For this reason, it is recommended that guest users in Filevine never add contacts to a contact field, as they run the risk of creating a duplicate contact for one that already exists. Contact fields should be filled or edited by users with collaborator or Admin permissions.