How to Create a Task on a Project
Tasks can easily be assigned to any team member of a project.
First, open the relevant project using the search bar in the upper right-hand corner of your screen.
At the top of the Activity page, in the "Write a Note" text box, type the task to be done. Indicate the person assigned to do the task using the "@" sign along with the team member's username (example: @fred please call client).
​​

Below the box where you're typing, you'll see a notice that you're creating a task for that user. Select the "Create" button on the right-hand side.
That task will then appear on the Activity page and the desired user's Task List.
PRO TIP: When creating a task, designate a due date by using the asterisk * sign followed by when you want the task due (i.e *in 30 days, *next Friday, *5/1/18). For more pro tips for the activity page, please see this cheat sheet.
How to Turn a Note into a Task
Once a note is created, it can be converted into a task.
First, open the note's vine. Select the three vertical dots on the right-hand side. Click the "Assign To" option and click the username of the one responsible to complete the task. You can also type the @ symbol followed by the desired recipient's username in the "Add to the Conversation" text box to assign the task. That task will then appear on the respective user's Task List.

​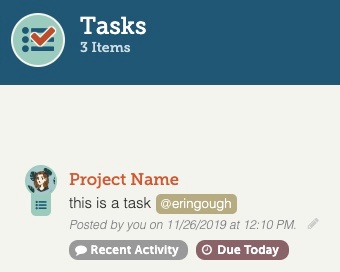 ​
For additional information regarding your Task List or organizing your tasks, please visit our Quick Reference Guide.