If you receive an "Invalid Token" error when attempting to sign in to FIlevine for the first time, or when attempting to reset your password, the link may have expired. This error can be addressed by clearing your cache, resetting your password, and, if applicable, generating a new confirmation email. 
Step-by-Step
If your new account confirmation link or your reset password link has expired, you will receive an "Invalid token" error.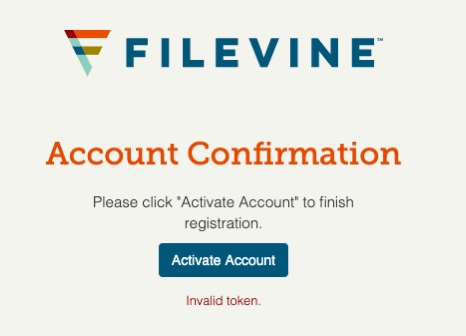 Clear Cache and Reset Password
In all cases, you will need to clear your cache and reset your password. 
Clear your cache and refresh. Before attempting to reset the confirmation email, clear your browser cache. Only "Cached images and files" needs to be selected.
Reset your password.

Once your cache has been cleared, you will be able to reset your password. Navigate to

https://app.filevine.com/Account/ForgotPassword

. Enter your email and follow the steps to create a new password.
Resend Confirmation
To activate a new Filevine account, you will need to follow further steps below to generate a new confirmation email.
Enter log in information.

Log in to Filevine using the new password you created in the section above. You will receive an error asking you to confirm the email address first, and you will have the option to resend the confirmation email.





Click "Resend Confirmation Email?"

Log in.

When you receive the new confirmation email, promptly click the link, confirm your email, and log in with the password you created in the section above.
If you continue to have problems, check with your Filevine Admin to make sure that your email address has been registered with Filevine.