The Conflict Check built-in section is used to search for potential conflicts of interest. In the Conflict Check section, Filevine users can quickly check whether they've had past dealings with clients or other parties involved in new projects.
Checking
The Conflict Check section is located in the section menu on the left. If the Conflict Check section is not in the project, it can be added to the project template by an Org Admin.
In the Conflict Check section, you will see a "Perform a new check" button. If any contacts have been checked for conflict in the past, you will see a list of all checked contacts, with either a checkmark or a red warning icon next to their name. You will also be able to see which team member ran the conflict check and when.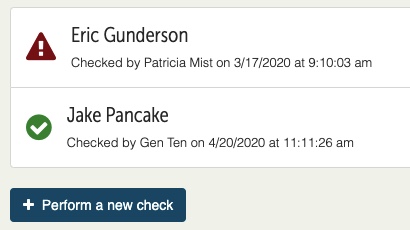 To perform a new conflict check, click "+ Perform a new check" below this list. The Conflict Check Editor modal will open.
Enter the name of the contact you would like to check and select the magnifying glass icon to search. Your search item must match the individual or company name exactly, or the contact may not appear. A list of all projects that contact is involved with and their role in those projects will appear.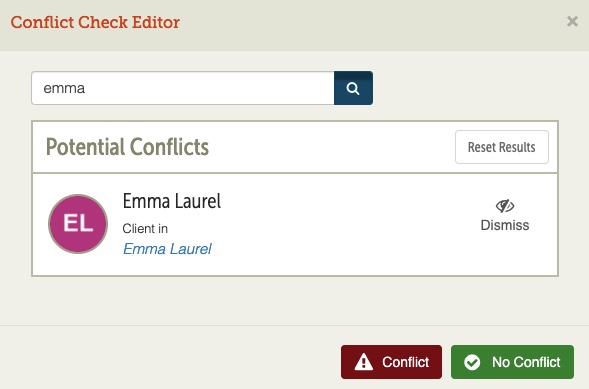 Read over the list to determine if there is a conflict of interest. Click the project name underneath the conflict name to open that project in a new tab.
Dismiss any instances that do not apply to the Conflict Check by clicking on the dismiss icon. Once you have looked over all instances, select "Conflict" or "No Conflict." The new conflict check will be added to the list.