Filevine's Address Book is a collection of all contacts in a user's organization, including contacts that are not attached to any projects. The Address Book will enable users to get an overview of their contacts and easily search and filter for all contacts in their Org.
View
Go to the Address Book by clicking on the address book icon in the top left corner, or by clicking on the main menu and selecting "Address Book" from the dropdown.
If prompted, select an Org from the dropdown. This Org choice will be remembered the next time you enter Address Book. The Address Book will show an overview of all contacts with their names, any name suffixes or prefixes, email addresses, and phone numbers. You can also quickly jump to different places in the address book by clicking on the desired letter along the lefthand side. The address book will jump down to contacts under that letter, by either first or last name depending on how you have sorted.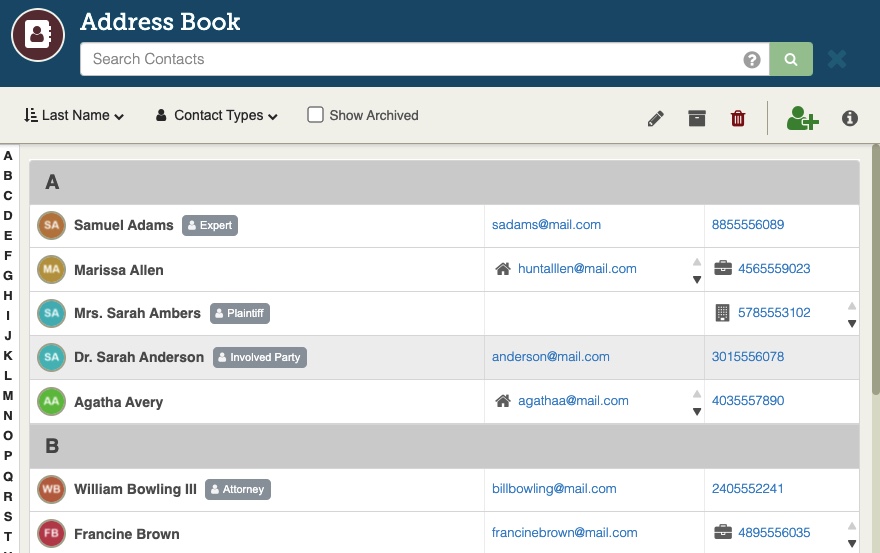 Properties Flyout
To see more information about a contact, select the contact and then click on the information icon in the top right to open the properties flyout. This flyout will include contact information and all projects that the contact is associated with.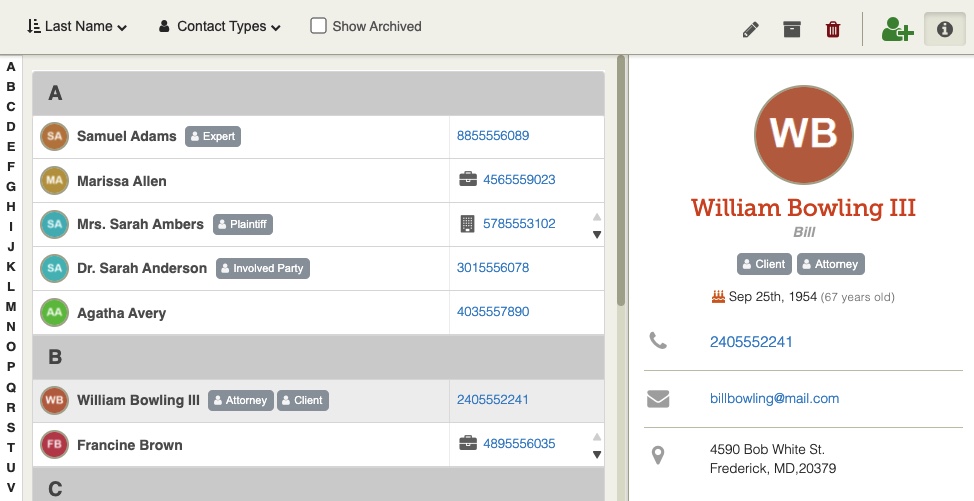 Search and Filter
Enter a term in the search box along the top of the Address Book. Contacts can be searched by their first or last name, phone number, or address. Search query syntax can also be used. To filter or change the order of search results, select "Options."
Search results can be ordered by search term-relevance, first name, or last name. Filter contacts by type or by hashtag by choosing from the Contact Type or #Hashtags dropdowns. Multiple contact types and hastags can be selected and stacked. Org Admins also have the option of including archived contacts by checking the "Show Archived" box on the right in the options menu.

Edit Contacts
Users can create and edit contacts from the Address Book. Org Admins also have the option of deleting, or archiving, contacts.
Add a contact by selecting the user plus icon to the right along the top of the Address Book and then filling out the new contact.
Edit, archive, or delete contacts by selecting the contact and then clicking on the pencil, file box, or trashcan icons respectively. Clicking the pencil icon will open the contact card, where you will be able to edit and adjust the contact information as normal. Clicking the file box will archive the contact, removing it from the Address Book unless you choose to show archived items. Archiving will also hide the contact in reports and contact search, unless the "Show Archived" option has been checked. Deleting the contact will remove the contact entirely if it is not being used anywhere in the Org. If the contact is being used, it will be archived.