This article discusses the integration between TImely and Filevine, including where to view Timely deadlines in a Filevine project, how to edit Timely deadlines, and best practices for using Filevine and Timely together.
Timely Deadlines in Filevine
Timely deadlines that have been exported to Filevine appear in the deadlines section and in the calendars, and will have reminders generated in the activity feed just as other deadlines would. You will receive email notifications as well based on your Org's notification schedule.
Deadline Section
If you are using Timely to export to Filevine, the deadlines in Timely will be imported as deadlines in the Deadlines Section (sometimes called the Reminders section). These deadlines will not show up as Deadline Chains.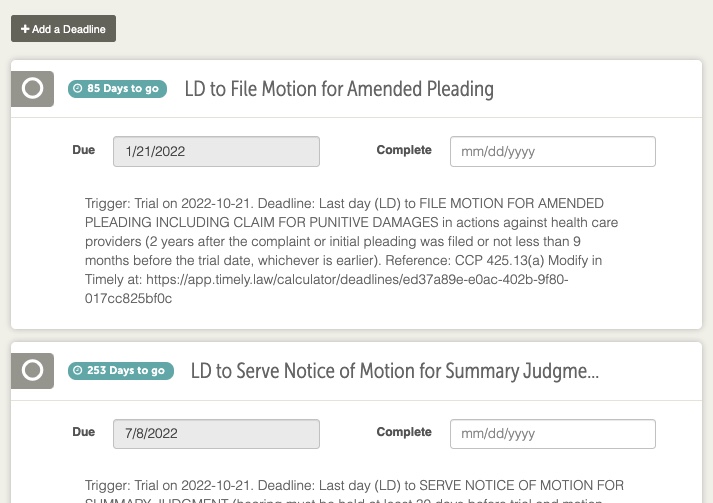 Each deadline will contain a link to return to that deadline within Timely, where it can be re-calendared. To avoid confusion, Timely deadlines in Filevine should be edited from Timely rather than from within Filevine.
Calendars
Deadlines from the Deadline section will also appear as all-day events on the project calendar. If you are subscribed to the project, they will also appear on your user calendar.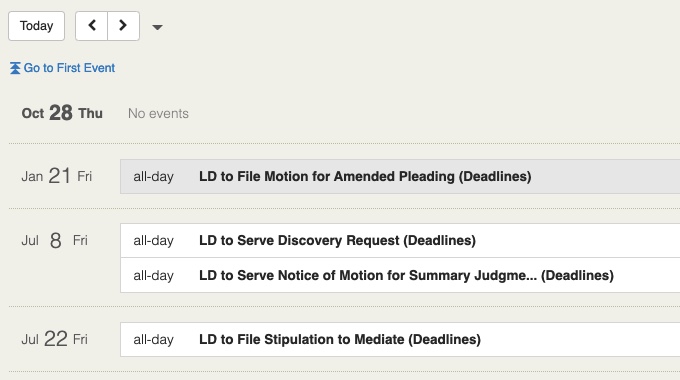 Reminders
These deadlines are tied to the Org's default reminder schedule, which will generate a series of reminders. For example, you might set your Org's default reminder schedule to send reminders seven days before, one day before, the day of, and the one day after. Reminders will appear in the activity feed.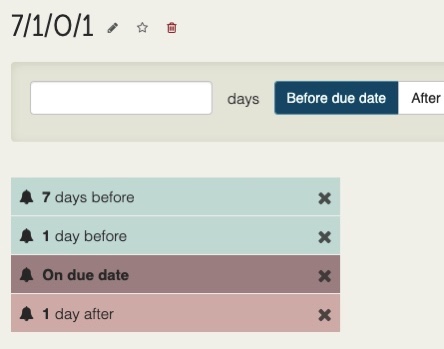 Reminders are special in that, once they have been marked seen, they will no longer appear in the activity feed unless the feed is specifically filtered for them. Read more about how to filter the Activity Feed.
If you are subscribed to a project, reminders will also appear in your user feed.
Viewing Deadlines in Timely
Timely deadlines that have been exported to Filevine are listed on the Filevine Projects page. To view these deadlines, click on your profile in the top right of Timely, and select Filevine Projects.
The Filevine Projects section in Timely displays information about all deadlines exported to Filevine, including the matter name, trigger, jurisdiction, and more. Sort the deadlines by clicking on the arrow icons next to the respective columns.
Use the arrow on the right to edit or delete deadlines associated with the trigger.
Editing Deadlines
Timely deadlines that have been exported to a Filevine project can be edited or "re-calendared." To edit a deadline or series of deadlines, go to the Filevine Projects page in Timely, or find that deadline in the Filevine project and click on the link in the deadline's body.
You are taken back to that deadline in Timely, where you can adjust the deadline due date, and remove or add triggers. Export those deadlines again to Filevine, and all of the deadlines will be adjusted and updated in the project.
All deadlines which have already been marked complete will remain completed when they are re-calendared. Any changes made from Filevine will be overwritten if the deadline is re-calendared in Timely.
To avoid confusion and overwriting, any changes to the due date, additions, or deletions should be done through Timely, rather than from within the Filevine project.
Best Practices
Timely deadlines will all create their own reminders and notifications. To ensure a smooth integration between Timely and Filevine, you may want to adjust your reminder schedule or your notifications.
Handling Reminders
Since you may end up with many deadlines, each with their own schedules of multiple reminders, it is best practice to minimize the number of reminders in your Org's default reminder schedule. It is suggested that the Org's default reminder schedule contain only a few important reminders. For example, each deadline might have a reminder one week before, one day before, the day of, and one day after.
Filevine's reminder schedules are marked default at the Org level, so making any changes to the default reminder schedule will affect all deadlines and deadline chains using the default schedule for any project in the Org. Use caution when adjusting.
Read Reminder Schedules to learn how to create, edit, and change the default of reminder schedules.
Notifications
If you are subscribed to a project, you will also have the ability to receive notifications for every deadline reminder through email, text, or Slack. You can do this by going to Filevine's notifications settings and checking the box next to "Deadline reminders for projects I follow" under the daily digest options.

If you check this box, you will receive a digest email the evening before any day when there is a reminder for a deadline in the project. For example, if an October 17th deadline had a reminder scheduled for the day before, October 16th, you would receive a daily digest email or message on the evening of the 15th with the reminder.