Timely helps users stay on top of their deadlines by building and upkeeping sequences of dependent events, depending on the jurisdiction.
Set-Up
If you are interested in Timely, contact your Filevine representative to get started.
Connect to Filevine
Once you've been set up, you can connect your Timely account with Filevine to save these reminders to Filevine. To connect, click on your profile in the top right corner and select "Connect to Filevine" from the dropdown menu.
Once you have been connected, you will be able to view all Timely deadlines that have been exported to Filevine by clicking "Filevine Projects" in the profile dropdown menu.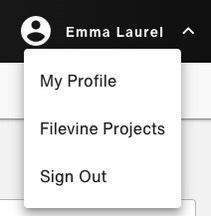 Adding Users
Managing users can add additional users to Timely by opening the menu on the left-hand side of the page and clicking on "Manage Users."
On the "Users" page, click on the "+ Invite Users" button.

On the following page, enter the email address and select the roles.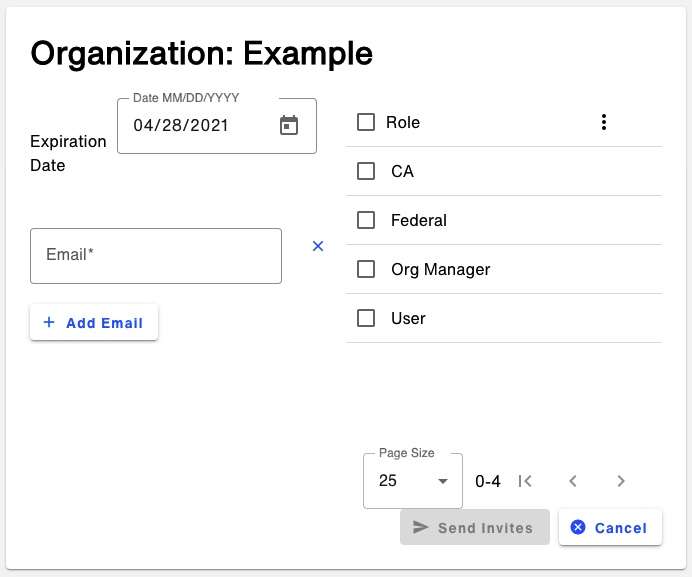 If you'd like to invite multiple users with the same roles, click "+ Add Email" to enter additional email addresses to the invite. All invitees will receive an email welcoming them to Timely.
The roles available to your organization are listed to the right. Select the box on each jurisdiction to which the user should have access. Providing access to a parent jurisdiction, like California, will also provide access to all child jurisdictions, like Los Angeles.
Matter Details
On the first page of Timely, Matter Details, select the correct jurisdiction and counties from any further dropdowns.

Once the jurisdiction has been selected, select the desired trigger(s) from the dropdown menu and enter the due date of each trigger. Once a trigger has been selected from the dropdown, other applicable fields may appear, such as an additional time field or a service method dropdown.

When a trigger and its field have been completed, you can click on the "+ Trigger" button to add more triggers, or select "Deadlines" to continue to the next page.
Deadlines
The next page in Timely will provide a list of all deadlines organized by trigger and by deadline date. By default, all deadlines will be selected. If a deadline is not needed, click on the checkmark next to a deadline to un-select it and keep it from being included.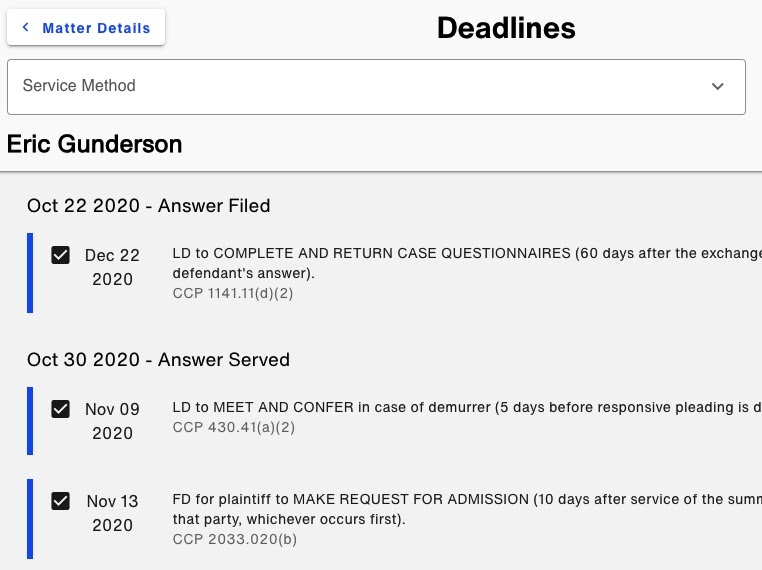 Deadlines can be searched by their descriptions using the search bar in the top right.
On this page, you may be able to select the service methods for all deadlines in the list that require service. Select service methods by clicking on the "Service Method" dropdown and selecting as many options as apply. You will also be able to deselect service methods on individual deadlines.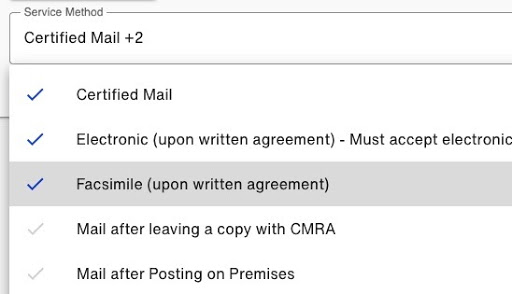 Export and Name Matter
Once methods of service have been chosen and deadlines reviewed, you will be able to export the deadlines. Timely deadlines can be exported to Filevine, or to Google calendar. They can also be downloaded to an .ics file or printed.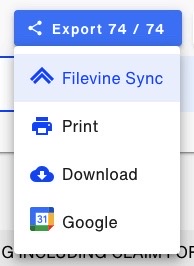 If the Timely deadlines are exported to Filevine, all deadlines will appear in the Deadline Section (sometimes named "Reminders" or "Ad Hoc Reminders") of your Filevine template, in the project calendar, and in your user calendar. Timely deadlines exported to Filevine can also be edited. Learn more about using Timely with Filevine.
If the deadlines are exported to an .ics file, you will be able to import them to the calendar application of your choosing.
If you choose to export to Google, you will be asked to allow Timely to make changes to your calendar. Once you have allowed this, click on the "Google" button again and you will be able to choose which calendar to add the deadline to with a dropdown.
When the method of exporting has been chosen, you will be asked to name the matter before clicking Export. Once the deadlines have been exported, you can view the deadlines in the calendars or files and navigate away from Timely.