Vinesign is a signature capturing tool that allows you to text or email clients important documents that require their signature. With the client's ability to sign the document from their phone, you significantly speed up the signature collection process. 
Signing Up
Please note that only one person from your Org should sign up with Vinesign this way. Once that account has been set up, the other people should be added to that user's group by following the directions in the next section.
Vinesign is an add-on that can be paid for as part of your Filevine subscription. To activate your account, visit app.vinesign.com and click the "Want to Sign up?" link below the login button. Enter your information in the signup form and be sure to select the "Are you a current client of Filevine?" checkbox. Once you have registered, notify a member of the Support Team and they can confirm your eligibility and activate your account.
If you're signing up with Vinesign separate from your Filevine account, you can enter your payment info on the website and sign up there.
​
​
Vinesign Admin
The user who signs up on the above website will become the Admin of their account.  As an admin you can:
Create new Vinesign users in your account

.

Run reports on an individual or a firm-wide basis to monitor the average signature conversion rate

See all jobs that have been sent for signature from any user in your firm
Adding Users
In the Admin account select Company Users from the top menu.  On that page, you will then press the New User button in the top right-hand corner and then enter the users' information.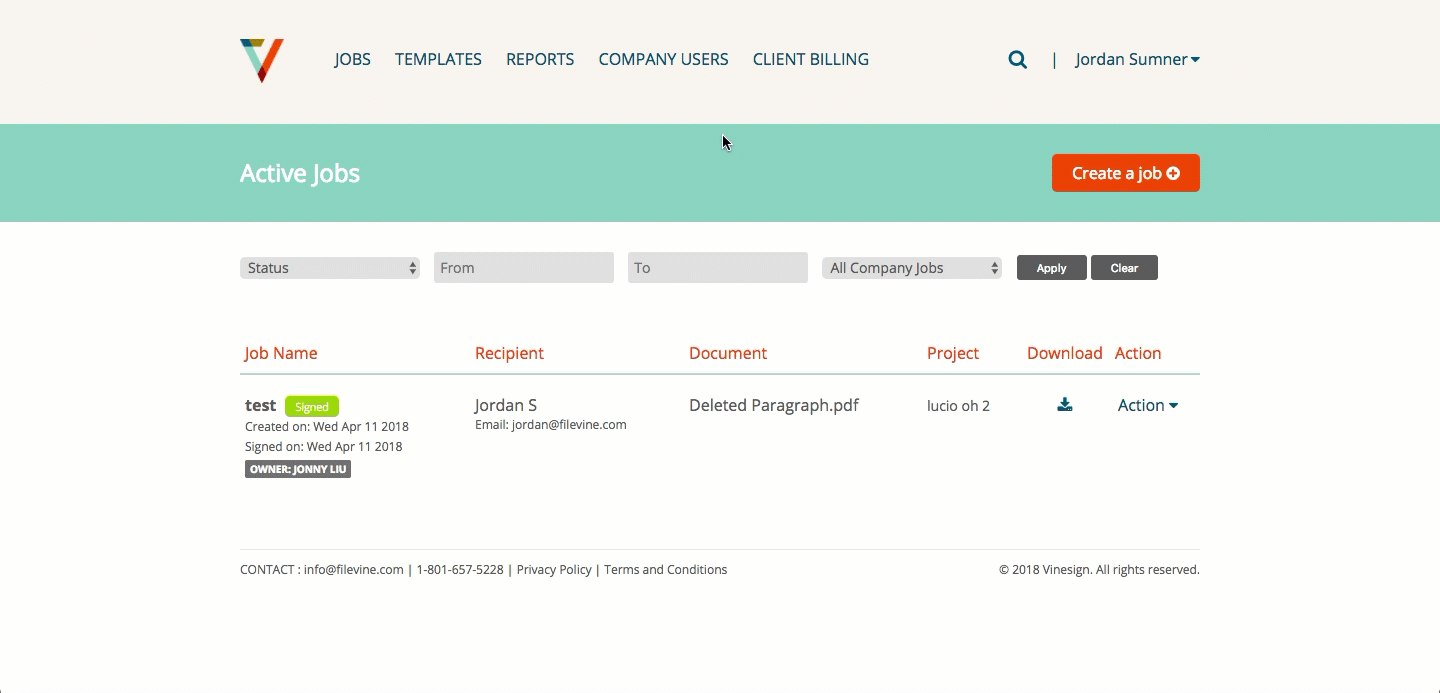 Sending a Document
Vinesign organizes documents by "Jobs". A job is a document that has been sent to a recipient to be signed. To create a Job, click the orange "Create a Job" button on the right-hand side of the main dashboard. You are then prompted to upload a document. It is important to note that Vinesign only accepts PDF documents. Once the document has been uploaded, you are then able to drag and drop boxes to get the appropriate information. You can gather text information, dates, gather signatures or collect custom information. 
​
​
Once you have formatted the document with the appropriate signature boxes, you are then prompted to enter recipient information. First, give your Job a name that will appear in the main dashboard after the document has been sent. Continue by entering recipient name, email or phone number. Recipients can complete the signature process via email or text message. You can also set your document to expire in 24 hours if it has not been signed by the recipient. You are then able to add multiple recipient information similar to the first recipient you entered. 
​
​
Vinesign authenticates signatures in many ways including date, time, time to execute, the location of the signer and other proprietary methods we consider trade secrets. While usually not necessary, should you want an even higher level of authentication, you can require your signer to authenticate via a photo and randomized gesture. If you do so, we recommend you let your signer know you'll be requiring a photo.
Once your document has been signed, you will see a Signed icon next to the Job Name in the main dashboard. You will also be notified via email. 
If you experience any issues while using Vinesign, please contact the Support Team and we can help.