Your Filevine user calendar can be shared, or synced, with either your Google Calendar or your Office 365 calendar. Your calendar can also be shared with other users in Filevine.
Sharing Your User Calendar
Using the Calendar Sync
Share with Other Users
Share an Event with a Project
Sync Your User Calendar
Your user calendar in Filevine can be shared and synced with either your Google or Office 365 calendar. Syncing your calendar with either Google or Office 365 will allow you to share your calendar with others from Filevine and to share events from your calendar on a Filevine project's calendar.
How To
Navigate to My Profile. Click on the main menu in the top left corner of Filevine and select "Setup" from the dropdown. You will now be in the "My Profile" section of setup.
Click on the desired calendar. At the bottom of the My Profile page, in the "Calendar Settings" section, click on the icon for the calendar you wish to integrate with.

Follow the steps. Google or Outlook will direct you to choose an email and ask for permission to access the account. Follow the directed steps and allow access.
View calendar settings. Once the calendar has been added, you will be directed back to Filevine. There, you will see your added calendar, along with additional options for sharing your calendar with other users.

Using the Calendar Sync
When your calendar is synced, you will be able to see Filevine events in the external calendar, and external calendar events on your Filevine user calendar.
From Filevine to External
Once you've synced, an additional calendar titled Filevine will appear in the external calendar.
These additional calendars are where events from Filevine will live. The Filevine calendar will show all events on your Filevine user calendar. To view Filevine events in your external calendar, make sure that the additional calendar is selected.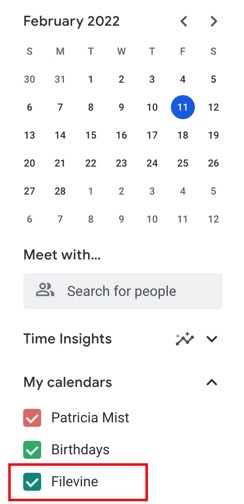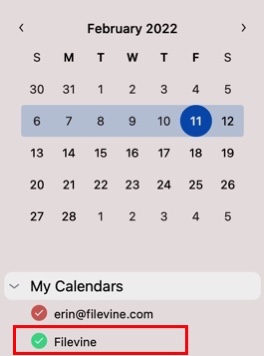 This Filevine calendar should only be used for viewing purposes. Any events created in Filevine should be edited in Filevine, and any events you'd like to share with Filevine from the external calendar should be added to the main external calendar folder.
From External to Filevine
Once you've synced, the events in your main Google or Outlook calendar will also appear on your Filevine user calendar. These events can be viewed in Filevine, but must be edited in the external calendar where they were created.
If you are sharing with a Google calendar, only the events from your primary Google calendar will be shared in your Filevine calendar. Additional calendars like a birthday or co-worker's calendar will not be shared with Filevine.
Best Practices
When calendars are synced, events added in one calendar will also appear in the other synced calendar. All events should be edited in the calendar where they were created. Therefore, any events created in Filevine should be edited in Filevine's calendar, and any events created from Google or Outlook 365 should be edited in their respective external calendars.
Deadline calendar events are an exception and cannot be edited in a calendar. To edit these events, you must edit the deadline itself.
Share With Other Users
To share your calendar with other users, you must first set up syncing with a Google or Outlook calendar. Once this is set up, in Advanced > Setup > My Profile, under "Invite User," enter the Filevine username or email of the person you would like to share with. Select "Invite."
Be cautious when sharing your calendar. Anyone with access to your calendar will be able to view, add, and delete events on your user calendar and, by extension, your Google calendar.
If you have shared your Filevine Calendar to Google calendar, any additions to your Google calendar can also be viewed in your Filevine user calendar. To create an event for a project from your Google calendar, add the project's email address to the event.
Sharing a Project Calendar
Users can connect the events on their external calendars (Google Calendar or Outlook 365) to specific projects in Filevine. To share project events, your Filevine calendar must already be synced with the external calendar.
Note: If your account's calendar integration was set up before Jan 17th, 2019, you will need to remove the integration and reintegrate it in order to receive the updated version.
Connect an External Event
Copy the project's email address. Search for and open the appropriate project. Find the project's email address by hovering over the vitals and then selecting "More Vitals." Copy the email address.
Open an event in your synced calendar. In the calendar, you have chosen to sync with your Filevine calendar, create a new event or click on and edit an existing event.
Add the project email as an attendee. Paste the project email in the attendee section, along with any other event attendees.
Send the invite. Make sure to save the events changes and send the invitation or changes. You may be prompted to confirm sending an invite to an email address outside of your business domain. Confirm sending this invitation to ensure that the project is linked.
After sending the invite, look for an acceptance email in the project's Activity Feed to confirm that the event has been added. Typically, it will be added to the project within 15-20 minutes. The event will now display on the user calendars of anyone who is listed as an attendee and has synced the calendar where the event is placed.