Your Mailroom is where Filevine users can find and easily organize all emails, text messages, and scanned documents into their proper projects.
How do I access my Mailroom?
In order to get to your Mailroom, you must either be an Org Admin or be granted Mailroom access by someone with Org Admin access. Please see Managing Team Privileges (Org-Wide) for further instructions on how to be granted these permissions.
Navigate to the Menu > Mailroom or click on the envelope icon.

How do I receive emails and texts to the Mailroom?
Emails - Your Mailroom has an email address auto-assigned to it. Any emails sent to this email address will appear in your mailroom.
As needed, the mailroom's email address can be edited by an Org Admin by clicking on the email address and then clicking on the pencil icon. As long as the email address is at least 6 characters long and is unique across all emails in Filevine, you can change the email address to whatever you'd like.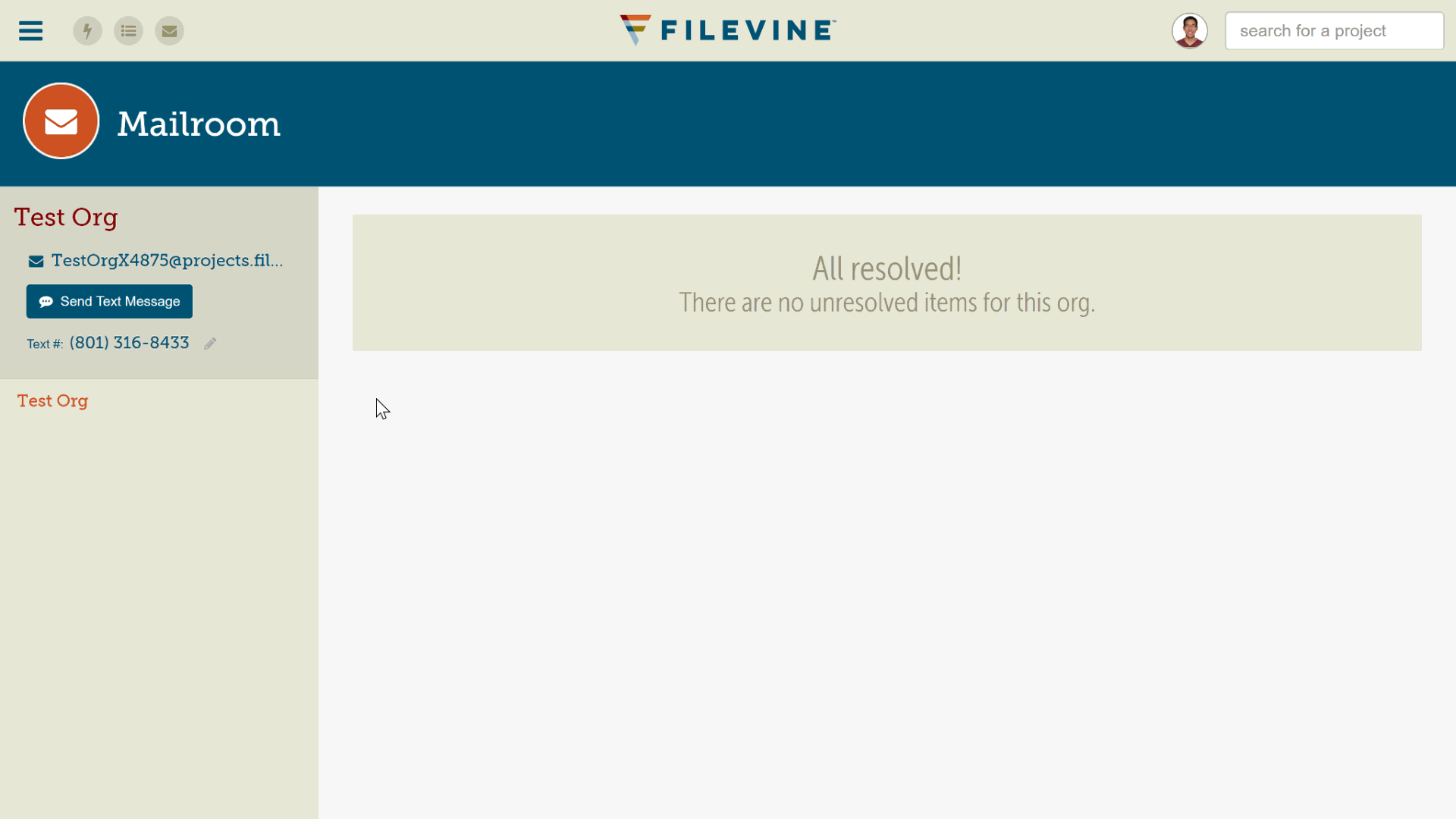 Filevine users often utilize the mailroom to receive important scans or efaxes. Once those emails appear in the mailroom, they can be forwarded to their appropriate case, as described below.
Texts - The mailroom can also be set up to send and receive text messages. Please refer to this article to learn how to set up the texting number for your mailroom.
*Note: When your mailroom receives a text message from a phone number that is included in a specific project, Filevine will recognize that number and send it directly to that project's activity section.
How do I move items from the Mailroom to a project?
To the right of the vine, you will enter the project name into the text box that reads "Move to Project…" Once you click on the project, the text will be instantly moved to the activity page of that project.
As needed, you may also click on the trash can icon to permanently delete the text or email.