You can keep all client communication on the project's page by forwarding emails to Filevine.
Filevine will automatically generate an email address for each project and organization you create. Incoming mail to this address will be archived in Filevine; however, you cannot send emails from Filevine.
If you've received an email from an address that you would like to delete and block, read the article "Marking as Spam."
Sending Emails
Emails can be sent to a project individually or to the Org's mailroom. Sending Filevine information like documents to clients can be done more easily by using the "share link" feature in the Docs section.
To a Project
The email address for each project can be seen in the Vitals section located on the upper right-hand side of each project page. If you do not see the email address when you scroll over these Vitals, select the "More Vitals" button.
​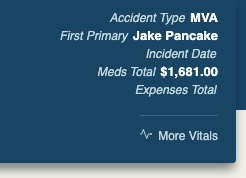 The majority of Filevine users will either forward all client communication to this email address or will simply BCC this address on all emails to the clients. Each email sent to this address appears on the project's Activity Feed as a vine.
To the Mailroom
Each organization also has a general email address. Messages sent to that address appear in the organization's 'Mailroom'.
To find the organization's address, enter the mailroom by selecting the "hamburger" icon in the upper left-hand corner of your screen. Select "Mailroom". You will see an email address generated for your entire organization reflected on the top of the left side menu.
​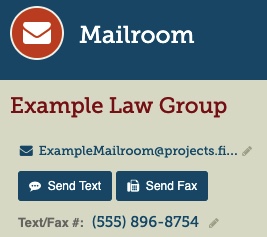 When messages are sent to this address, they appear in the mailroom. You then have the option to move these emails to a specific project by typing and selecting the name of the project in the "Move to project…" text box. These email vines will now appear on that project's Activity feed.
Changing the Project or Mailroom Email Address
You can change the prefix of the Project or Mailroom email address. The default email address will be the Project Name plus the Filevine generated Project Number or in the instance of the mailroom, the Org Name plus the Org Identifier. This prefixes can be changed to anything you prefer. Only a Project Admin can edit the Project email address and only an Org Admin can edit a Mailroom email address.
Be aware that if you change the email address, any emails that are auto-forwarding into a project or mailroom will no longer be received.