Document Lock is part of Filevine's Docs+ Features. If you are interested in Docs+, contact your Filevine rep to learn more.
Filevine's Document Lock feature allows users to lock a PDF or MS Office document for editing, so they can be assured their changes will not be overridden by another user's save.
Locking
When an MS Office document has been opened for edits using edit-in-place, or when a PDF is open in Filevine's PDF editor, the document will automatically be locked for other users. When the document is closed, the document will be automatically unlocked.
Viewing Locked Documents
Users will see a lock icon next to the document anywhere it appears in the project.

Users are still able to preview and download a locked document, and can view which user has locked the document and for how long.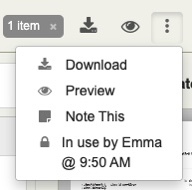 Unlocking and Overriding
A locked document will be automatically unlocked after 24 hours. An Org Admin is also able to override a locked document and unlock it if needed.
Overriding a document lock may lead to inadvertent overwrites of document changes and saves, and should only be used when necessary. In the case that a document lock has been overridden by an Org Admin, the last-saved changes on the document will overwrite any changes made and saved before.
If you have overwritten edits on a document, you can find older saved versions of the document in the "Versions" tab in the properties menu of the document.