Microsoft Office file types are able to be edited within any project. This article will discuss the requirements for in-line editing as well as how to edit a document. For information on editing PDFs, read Docs+ PDF.
Requirements
Microsoft Office edit-in-place requires either Windows + Office 2013 or higher or an up-to-date macOS version + Office 2016 or higher. Previous versions of macOS may not work as intended. The documents must be Microsoft Office files and must have extensions in lowercase (.docx rather than .DOCX).
Office edit-in-place will work on both desktop and mobile, provided you have the relevant application installed (Word, Excel, etc.).
The user must have full project and editing permissions to the MS Office document in order to edit, and the file type must be one of those listed below.
File Type
| Program | File Type |
| --- | --- |
| Word | .doc, .docx |
| Excel | .xls, .xlsx |
| Visio | .vsdx |
| Publisher | .pub |
| Powerpoint | .ppt, .pttx |
| Project | .mpp |
Edit
To edit a document, select a file and click on the document's properties menu. Select "Edit Doc." You can also open document editing from the preview screen by clicking on the "Edit Doc" icon in the top right corner.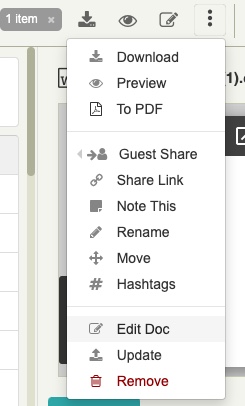 Selecting "Edit Doc" will prompt you to open the relevant Microsoft application.

Select "Open Microsoft." In the window, make any desired edits, and save the document. Any edits made to the document will be saved to the document wherever it appears in the project.