This article discusses receiving and signing a Vinesign document. This article is meant for clients who are receiving documents to be signed. For more information about using Vinesign, read Vinesign.
Receiving the Link
You will receive a link to sign the document through SMS, email, or both. To begin signing, click on the link in either your SMS app or your email. The PDF of the unsigned document attached to the email is for viewing purposes only and cannot be signed.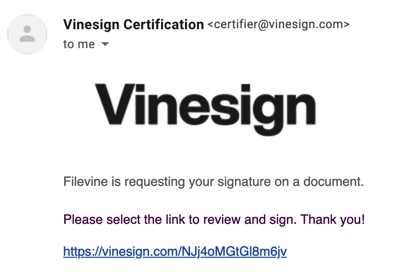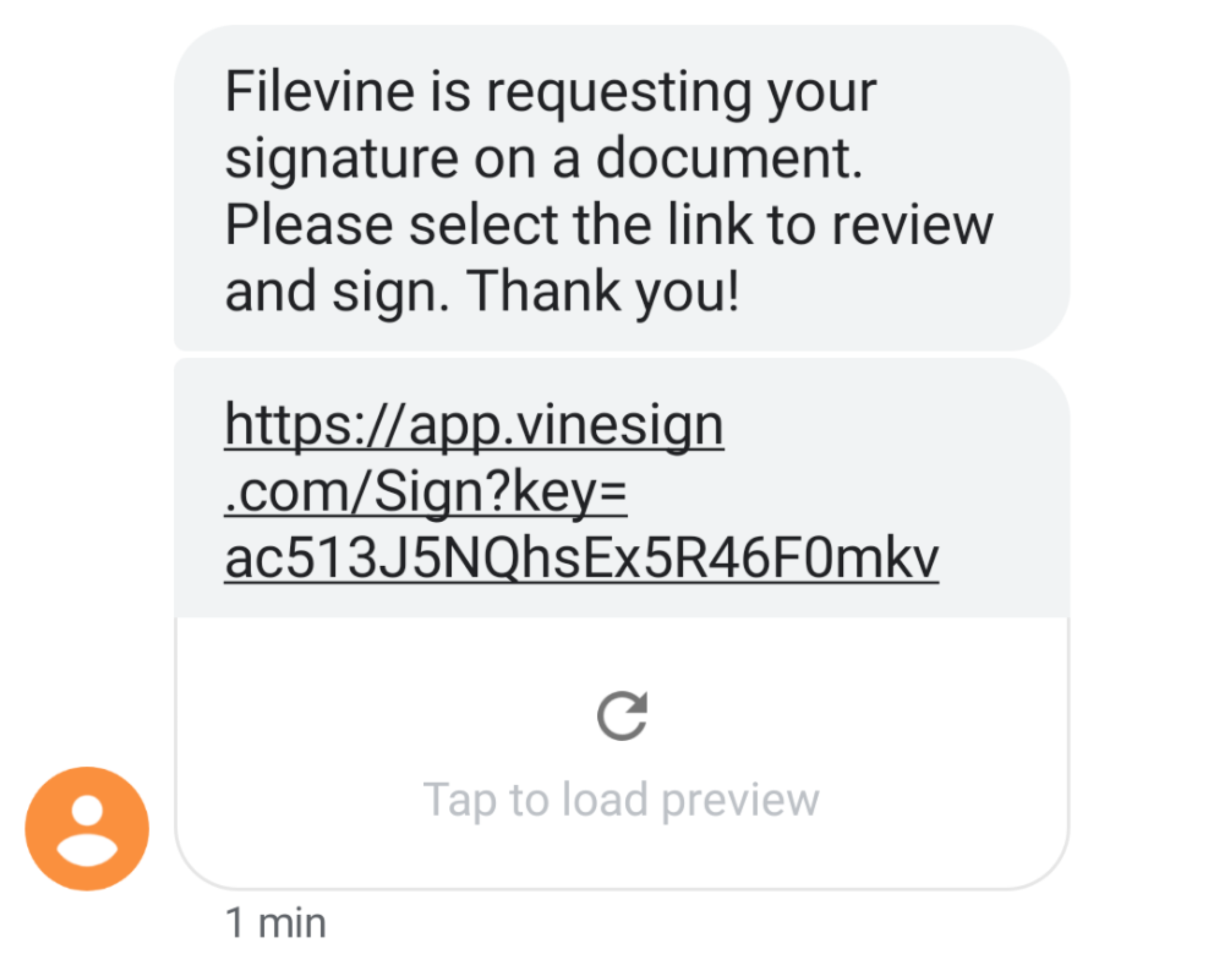 Troubleshooting
If you click a link and receive an error message reading "Document Expired," the sender marked this link to expire after 24 hours. In this case, the sender will need to resend a new link to you to sign.
Signing
Clicking the link will bring you to the document for signing. Click Continue in the top right corner to be directed to the first fillable field, which can be filled in-line with the surrounding text. When you finish filling a field, click Next in the top right corner to be directed to the next fillable field.
Some fields, like the date and name auto-fields as well as any custom fields named "phone" or "email," will be filled automatically, and do not need to be filled by the recipient.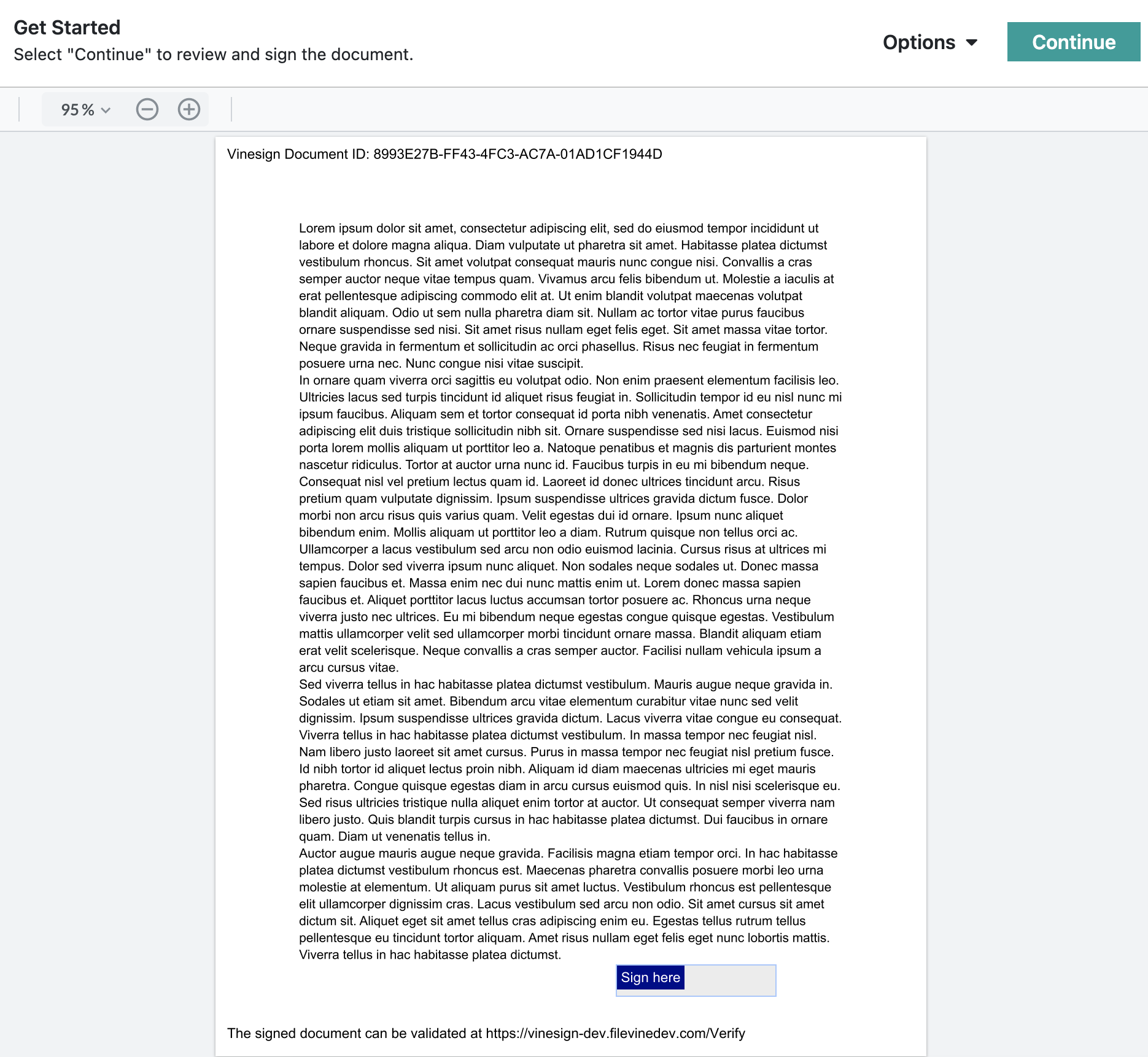 Clicking on a signature or initial field will bring up a flyout screen where you can draw your signature or initials. You will be able to reuse the same signature or initials to sign a document multiple times, or to sign future Vinesign documents.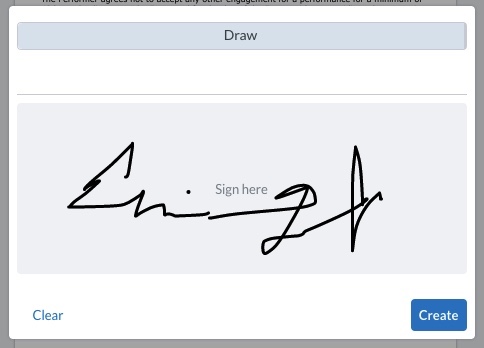 If you want to redraw your signature or initials, you can delete the existing versions and create new ones. To delete a signature or initials, select the signature or initials, and then click the trash icon.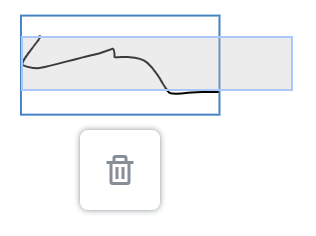 Once the signature or initials has been deleted, you can click the signature or initial field again to redraw as desired.
When you've filled all fields in the document, the Next button will become a Finish button. Click this button to finish filling the document and submit it.
Gesture Authentication
If your sender has required gesture authentication, Vinesign will ask you to take and upload a photo of yourself using a specific gesture. For example, you may be asked to take a photo of yourself giving a thumbs-up sign or a peace sign. This photo is used as another layer of authentication.
Signed Document Verification
When you hit Finish, you will see the "Success!" screen. Once a document has been fully signed, you will have the option to view and download a PDF copy of the signed document, which can be verified using Vinesign's verification portal.
Verification Portal
Vinesign verifies documents via a private blockchain, which means that it keeps a record of all changes to a document. As a result, Vinesign can differentiate between the most recent and outdated copies of the same document, and can also confirm a document hasn't been altered. Learn more about Vinesign's document verification.
To check the document's status, go to:

On this page, click Choose File and upload the document you'd like to check. Click Verify Document. If the document is invalid, you will see an error notification.
If the document is valid, you will see a message that indicates whether the document is verified or outdated.