The Contacts section displays all contacts associated with the project, including contacts from person fields added to the project template. In this section, users can also manually add contacts to the project as well as create entirely new contacts. Learn more about contacts.
Project Contacts
The Contacts section, located in the section menu on the left, will display all contacts associated with your project as well as their roles for that project. All contacts associated with your Org as a whole can be found in the Address Book.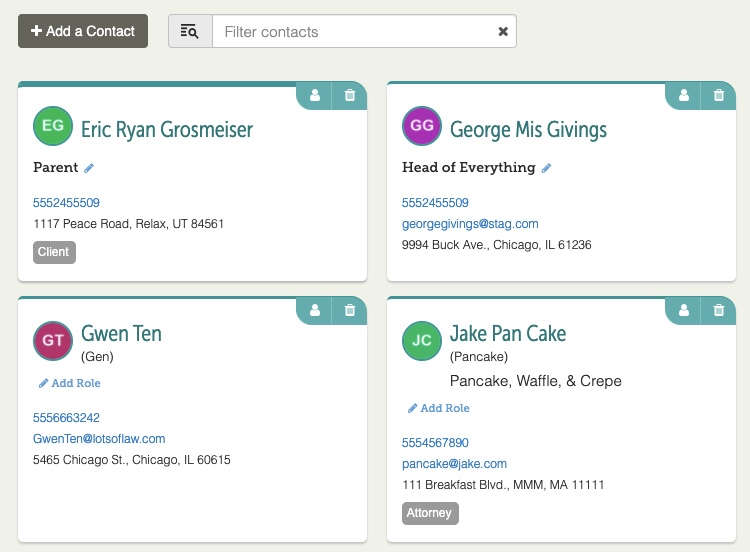 Adding Project Contacts Manually
In most scenarios, contacts will be added to their respective Person fields throughout the project. These contacts will appear in the project section as well.
To add a contact directly to the Contacts section, "+ Add a Contact." In the new card that appears, search for the contact that you would like to add by typing the name into the "Type to search" text box. Contacts exist across projects and Orgs, so always make sure to search for a contact before adding a new one to avoid creating duplicate contacts.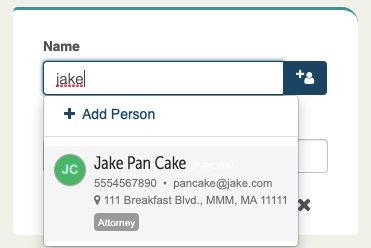 If you find a matching contact, select that contact from the dropdown, add their role in this project, and click the blue checkmark to save.
If you do not find the contact and need to create a new one, click "Add Person" or on the add contact icon to the right of the search box. Fill out the contact card module and "Save." The contact will be saved across all Orgs, and will be filled in your contact for this project. Add the contact's role in this project and click the blue checkmark to save to the Contacts section.
Filtering
To filter contacts, type any information from the contact card or the project role you assigned in the "Filter contacts" search box at the top of the contacts section. As you type, the section will automatically filter.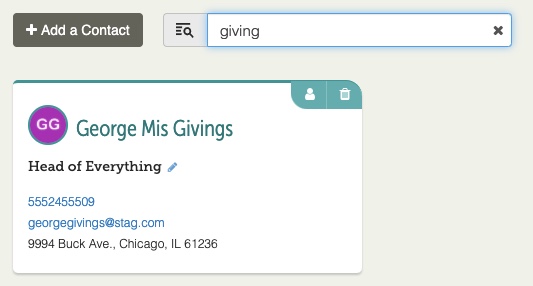 Duplicate Behavior
Some contacts may appear in the Contacts section more than once. Contacts will appear in the contacts section once for every time they appear in the project, so if a contact is added in multiple project sections or multiple places in a section, they will appear multiple times in the Contacts section. (The exception to this rule is if a contact is added in the same field in two different collection items in a collection section. Since the contact has the same assigned role in this case, they will not be added more than once.)
Each contact card will include where the contact has been added in the project.