This article explains the steps to set up Filevine Doc Assembly. Learn more about using Doc Assembly.
Filevine Doc Assembly connects your Filevine data to Outlaw's template editor, enabling faster, more customized document generation, assembly, and automation. Filevine's patented file type, .vine, creates living, editable documents that sync with your Filevine data.
Set Up the Connection
If you are interested in Doc Assembly, contact your Filevine representative. An account manager will reach out with next steps. An account manager may need to be added to your Filevine Org to configure the Filevine API.
When the connection is complete, you can begin setting up templates.
Set Up Templates
Outlaw templates must each be connected to a Filevine project type, and an Outlaw Template widget must be added in the Customs Editor to that Filevine project type.
Outlaw templates are connected with a Filevine project type and section. Once these are connected, you can place Filevine variables in the template to auto-populate that Filevine data upon document creation. Read Outlaw's documentation to learn how to connect an Outlaw Template.
Learn more about creating an Outlaw template.
Create an Outlaw Template Widget
To create .vine documents from within Filevine, an Outlaw Template widget must be added to the project template from the Customs Editor. Outlaw Template widgets can be placed in any custom section. Regardless of placement, the document can pull data from across the Filevine project, including from the project's contact cards.
In Filevine, navigate to the Customs Editor by clicking the main menu in the top left corner and selecting Advanced from the dropdown. Select Customs Editor from the left side menu.
Choose the project template where you'd like to add the widget. Choose and open the custom section where you'd like to place the widget.
Click + Add Field/Widget at the bottom of the opened section. In the Create New Field Template modal, toggle to Widget. Select Outlaw Template from the Widget Type dropdown.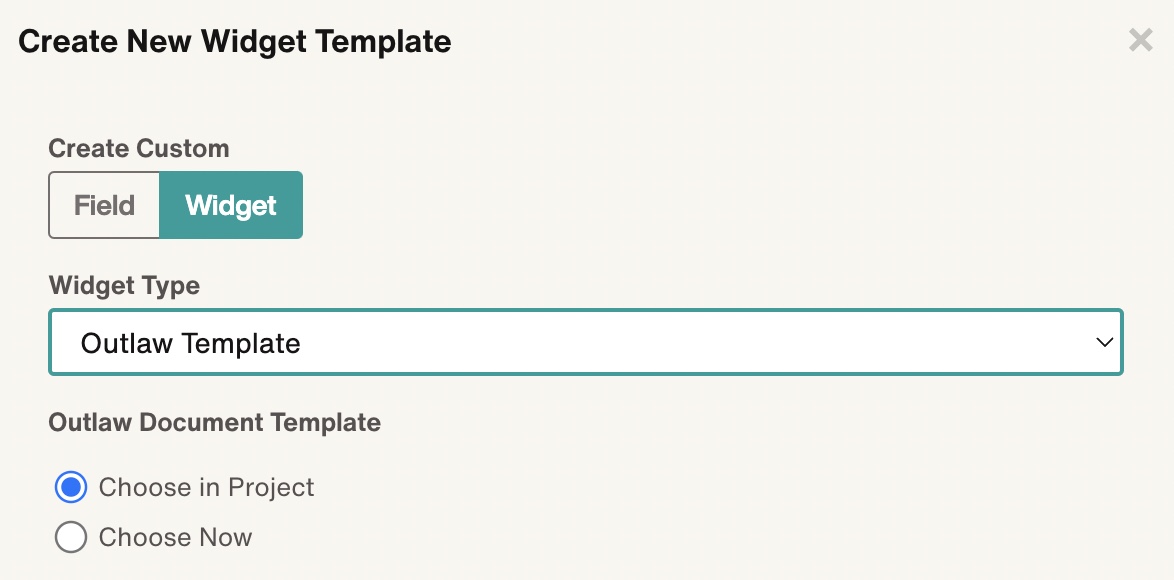 You can opt to choose the Outlaw template either now or in the project. If you choose the template now, the widget will be limited to that single Outlaw template. If you opt to choose the template in the project, you will see a list of available templates by the widget in the project, and can choose there.
Fill out the Widget Prompt field. Once the Widget Prompt field is filled, the Widget Selector field will be filled automatically. Click Create.