As a result of recent phone carrier regulation changes, each Org sending SMS messages through Filevine must register their use case. Businesses that do not register may be subject to increased message filtering, which could affect message deliverability. Messages sent from registered numbers experience up to a 90% reduction in message filtering.
Orgs can register for either the Low Volume Standard Tier or Tier 2, depending on the volume of SMS messages and phone numbers they require. Orgs that are interested in the Low Volume Standard Tier should register here. If your Org requires more messages or numbers than the Low Volume tier allows, contact your CSM to discuss Tier 2 registration. Tier 2 registration requires more detailed information and comes with additional fees. Read more about the messaging tiers below.
Regulations
In early 2021, AT&T and T-Mobile rolled out regulations for messages that are sent from an application to personal cell phones using 10-digit numbers (A2P 10DLC). These regulations are designed to make it easier for businesses to connect with their customers while countering spam over SMS and MMS.
As part of these regulations, businesses sending SMS messages through the Filevine application must register their use case with these providers. If a business does not register and continues messaging through Filevine, it is likely that they will experience disruption of service. Your messages could be marked as spam or may not be delivered.

Canadian Users
Any Org using Filevine to send SMS messages to clients in the US must be registered. This includes any Canadian Orgs sending SMS messages to US clients.
SMS messages to US clients must be sent from a chosen registered number. Once a Canadian Org has registered, they will need to choose the numbers they will use to send messages to US numbers. The numbers available will depend on the chosen messaging tier.
API and Workato Users
If your API calls are sending messages from a Filevine-owned number, these regulations will also restrict the number of messages sent from these locations. If users are using API or Enterprise Automation to send messages through a project and are using one of Filevine's SMS lines, this will affect them.
Customers using an independent line should verify with their provider (for example, Twilio) if they need to register under these regulations.
Messaging Tiers
There are two tiers available for Filevine users to register under: the Low Volume Standard Tier and Tier 2.
Tier registration is on a Filevine Org basis. Businesses with multiple Orgs must select a messaging tier for each active Org within Filevine. Once the Org has been registered, each individual texting number can then be registered.
Low Volume Standard Tier
This tier includes:
up to 6,000 message segments per day

up to 400 numbers per Filevine Org
This tier will come at no additional cost to you.
Tier 2
Tier 2 includes:
Note: Tier 2 comes with a per month cost of $99. These regulations will incur costs to Filevine, and we are unable to provide this service for free any longer. Filevine has kept the pricing as minimal as possible while still providing SMS services within its platform and its products. Tier 2 registration comes with an additional one-time registration fee of $94.
Limits
If you exceed the messaging or Filevine Org phone number limits for your tier, you will begin experiencing delivery failures. Your messages may be marked as spam. In some cases, waiting until the following calendar day to resend will successfully deliver the message, but this is not guaranteed.
How to Register
Low Volume Standard Tier
To register for the Low Volume Tier, fill out your information in the registration form. Filling this form will put you in queue for the Low Volume Standard Tier. You should expect this update to go into effect in a few weeks following your form submission.
Note: It is important that the information you provide matches what is included in your business registration with the IRS. This information is used for the sole purpose of verifying that the business is registered in the United States.
Tier 2 Registration
Businesses that have chosen Tier 2 should work with a Filevine account representative to ensure that all necessary information for Tier 2 is captured.
The following information is required for Tier 2 registration:
personal information of authorized representative

first and last name

email

billing address

business title

job position (for example, director)

business name (must be the exact name under which the business was incorporated)

physical address (Street, City, State/Province/Region, Postal Code, Country)

business type (Sole Proprietorship/Partnership/Corporation /Co-Operative/LLC/Non-Profit)

company status (Private/Public/Nonprofit/Government)

If public: stock ticker & exchange

business registration number/tax EIN

industry (for example, retail)

website URL

region of operations (e.g., United States)
Registering Numbers
Once your Org has been registered, you can register already-existing texting numbers in the Text tab of the Manage Org Phone Numbers tool.
If you are registered, you will see the number of registered numbers displayed on top of this tab. Unregistered numbers will be marked.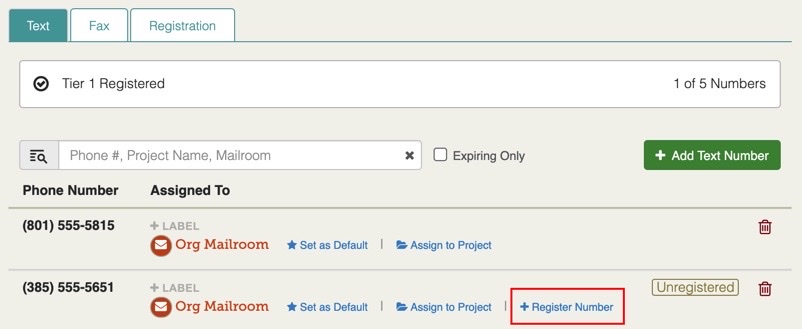 To register a number, click + Register Number next to that number. (If your numbers are tagged as Unregistered and there is no option to register the number, you will need to first register the Org in the Registration tab.)
Once a number is registered, it cannot be unregistered except by deleting the number entirely. For US users who are registered, any new texting numbers will automatically be registered as part of the creation process.