This article discusses how to set up a Vinesign template, how to create a "job" and send a document in Vinesign, and how to use Vinesign in Filevine. To learn more about managing your Vinesign account and adding or changing users, read Sign Up for Vinesign.
Vinesign is a tool for filling and signing .pdf documents that allows users to text or email clients important documents that require their signature. With the client's ability to sign the document from their phone, you significantly speed up the signature collection process.
Before you can follow any of these steps, you will need to sign up for Vinesign. For instructions on signing a Vinesign document, read Using Vinesign as a Signee.
Set Up a Template
Send a Document
Sign a Document
Vinesign with Filevine
Set Up a Template
The first step to using Vinesign is creating a template document. This document can be saved and sent to multiple people. Before you get started making a template, read over our best practices below.
Best Practices
Vinesign can send separate copies of the same template to multiple recipients, but only one person can sign the document through Vinesign at a time. If you require multiple signatures, you will need to send the document to one signee, and then save that document with the signature as a template to the next signee.
Vinesign offers customs fields and auto-fields. The four auto-fields are for signatures, initials, printed names, and dates. The signature and initials auto-fields will allow your recipients to draw their signature or initials. The printed name and date auto-fields will be filled in automatically and will not need to be entered by the recipient.
To create a custom field, click "+ New" next to the auto-field buttons, and enter a custom field prompt. When your recipient is filling a field, they will only have the field prompt to let them know what they are signing, so make sure that your custom field prompts are accurate and easy to understand.
When you are placing and sizing your custom fields, keep in mind that enter text will appear in the lower left corner of the text box you place.
The more fields required within a request for a signature, the less likely your customer will follow through. Vinesign is not recommended for intake forms. For best results, keep the number of fields to a minimum, and test out the template yourself by sending it to your own email before sending it to clients. You can use Filevine to generate .pdf files that already include client information. Download those .pdfs from the client's project and upload to Vinesign.
For further instructions and information for the signee, read "Use Vinesign as a Signee."
File Limitations
Vinesign can upload one .pdf, .docx, or .doc file at a time. Docx and .doc files will be converted to a .pdf upon upload. Vinesign does not support other file types.
| | |
| --- | --- |
| Max File Size | 20 MB |
| Recommended Size | 5 MB |
| Max Pages | 3,000 pages |
For best performance, we recommend uploading files of no more than 5 MB.
Errors will occur if your file is too large or unoptimized. If you encounter problems uploading your .pdf file, try optimizing the .pdf for "minimal size" or saving it to the .pdf/a format through Adobe Reader.
Creating a Template
Navigate to the "Create a Template" page. Click the "Templates" tab at the top of the main page in Vinesign. Next, click the "Create a template" button at the top right. This will take you to a page asking you to upload a document. You can also create a template by clicking the "Jobs" tab and then clicking "Create a job."




Upload your .pdf document. Click the left side of the box to browse your files or the right side to drag and drop your file. Choose the .pdf document you would like to use as your template. Once the file has uploaded, click the orange "Next" button.
Create and place fields.

Choose from the field options or create your own fields, and click and drag to move the text box where you'd like the information to be entered. Field size can be adjusted using the arrows on the edges of a text box field.

When re-sizing a field, be careful not to shorten it past the end of the text within the field.




Send or Save.

When you've added all fields, click the orange "Next" button. You will be asked how you would like to proceed, and you can choose to either save, send, or save and send the template. Saving the template will allow you to use the template you've just created for other recipients.
Send a Document
​
The messages that Vinesignsends out to customers are called "jobs." These messages will be sent as both a text and an email to your recipient. The following steps will show how to create and send a job:
Navigate to the "Create a job" page.

On the main page of Vinesign, click on the "Jobs" tab in the top left. Then, click the orange "Create a job" button in the top right.

Choose a template. In the "Create a job" page, either upload a new document to create a template, or pick a template that you have already created. If you upload a new .pdf, you will need to create a new template. Consult the section above for more information on this. If you pick a template, you will be taken to the next step.
Fill out the form. In the "Recipient Info" section, fill out all text boxes. If you have integrated with Filevine, you will be able to choose a project to associate with this job by filling the "Associate with a Project" text box. If you would like to send separate copies of a document to multiple recipients, click the "Add Recipient" box. To have your recipient authenticate via a photo, click the box next to "Require gesture authentication." When you've finished, click the orange "Send" button.


Gesture authentication provides an extra level of authentication by requiring your recipient to upload a photo of them making a randomized gesture. Vinesign authenticates signatures in many ways, but if you would prefer this additional level of authentication, you can check the box next to "Require gesture authentication." If you do so, we recommend you let your signer know you'll be requiring a photo.
Once your document has been sent, it will appear in the dashboard under the "Jobs" tab. Each job will have an icon next to it indicating whether the document has been signed.
Sign a Document
It's important to know how the Vinesign document will appear to your recipient. As mentioned above, the date and name auto-fields as well as any custom fields named "phone" or "email" will be filled automatically, and cannot be filled out by the recipient. Learn more about using Vinesign as a signee.
Once your document has been signed, you will see a Signed icon next to the job name in the dashboard under the "Jobs" tab. You will also be notified via email.
Vinesign with Filevine
Vinesign can be integrated with Filevine so that jobs created in Filevine can be associated with projects and contacts within a Filevine project. To integrate your Vinesign account with Filevine, contact your Filevine representative and consult the article on signing up for Vinesign. For the ability to create and send Vinesign jobs from a Filevine project, read Vinesign Integration in Filevine.
Once Vinesign has been integrated with an Org in Filevine, you will see an "Associate with a Project" field and an "Associate with a Filevine Contact" field in the "Recipient Info" form whenever you send a document. These fields act as a search for any projects or contacts in your Org, respectively. Search and select the project or contact that you would like this document to be associated with.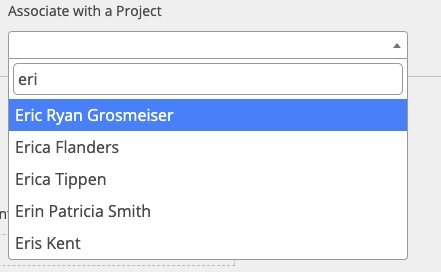 When a job you've chosen to associate with a project is signed, that job will appear as a note in your Activity Feed with the hashtag "#vinesign." The signed document will be attached, and can be previewed and downloaded from the note. The note also includes details like the sender, the signer, the signer's information, and a link to the signed document.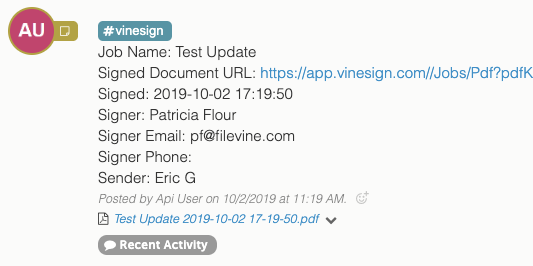 Contact Field
When you choose a contact using the "Associate with a Filevine Contact" field, the contact's name, email address, and phone number will be pulled from the contact card information in Filevine into the fields below.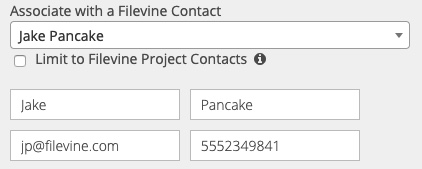 Vinesign will pull the top-most email and phone number from these lists that is filled out in the contact card:
| Email | Phone |
| --- | --- |
| Work | Personal Mobile |
| Home | Work Mobile |
| Other | Home |
| None | Work |
| | Other |
| | Fax |
| | None |