Generate a secure download link to share documents with others from the Docs section of any project. Control expiration time and permissions options for greater security.
Generate
In the Docs section of your project, select a document to share and then select "Share Link" from the vertical ellipsis dropdown menu.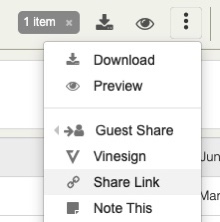 Once the share link has been created, you can view, copy, and edit the link by finding it under the "Links" tab in the document's properties flyout.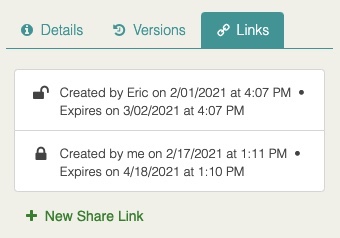 Sharing Multiple Documents
You can also create a share link for multiple documents or folders in the Docs section. To create a share link for multiple documents or folders, hold Ctrl (or ⌘ for Macs) and select all documents and folders you would like to share. Then, click on the link icon on the right top bar.

Be cautious when generating share links to entire folders, as all documents in that folder will be included.
Permissions Options
In the "Create Doc Share Link" modal, you will have the option to choose three levels of permission and the option to choose or customize the expiration time period.
If you choose to password-protect your link, you will be asked to enter and confirm your password. Any viewers of this share link will then need to enter the password before they are able to view the document.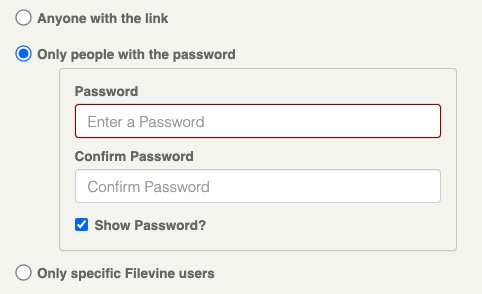 If you choose to share the link only with other Filevine members, you will be able to search for and select the desired users within Filevine.

Expiration Options
By default, a link will expire after sixty days. Choose the expiration of the link by selecting one of the options from the dropdown menu or by selecting "Custom" and entering your own. The date and time of the links expiration will be displayed just beneath "Expires…"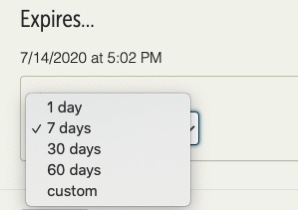 Copy
Once the link is generated, you will have the option to copy the link to your clipboard or to copy it in an email.

If you've set up the auto-CC email feature in Filevine [link] the project email will also be cc'd to the email, meaning that any additional email to and from the recipients will forwarded to the project's Activity Feed.
Remove
To remove a share link from a document, open the Docs properties flyout and find the "Links" tab. Under this tab, you will see all active shared links. Click on the link you'd like to remove to open the "Edit Doc Share Link" modal, and then click "Remove Doc Share Link."