Merge Contacts is an Advanced tool in Filevine that allows users to merge two or more contacts into a single contact. The Merge Contacts tool is useful if a duplicate contact has been created by mistake.
How to Merge Contacts
Navigate to the Merge Contacts Advanced tool by clicking on the main menu in the top left corner and selecting Advanced. Then, click Merge Contacts in the left-hand side menu. If prompted, select the Org where you would like to merge the contacts.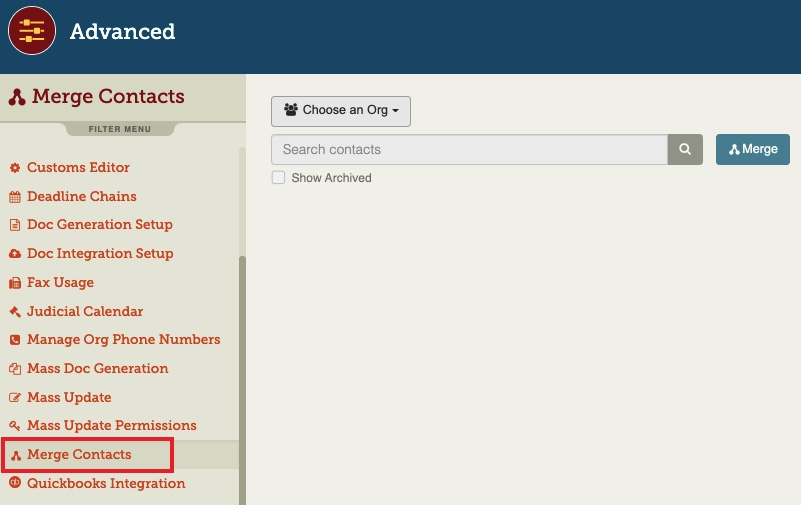 In the Search contacts textbox, enter the name or information of the contact that you'd like to merge. If you'd like to include archived contacts in your search, select Show Archived.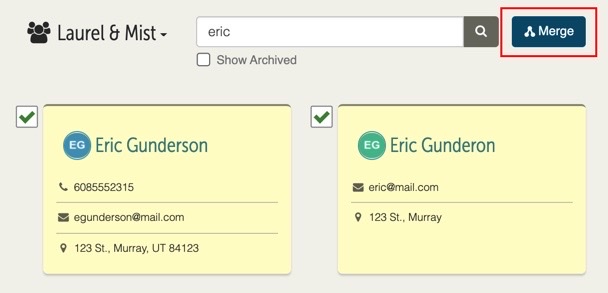 Contacts matching the search term will be listed below. Select the contacts that you would like to merge, and click Merge in the top right corner.
Edit Contact
In the contact modal, you can edit or add any contact information for the final merged contact.
If the contacts chosen to merge have conflicting information, like a contact name, the modal will display the information from one of the chosen contacts. If the contacts have different contact information, like addresses, email addresses, and phone numbers, then the merged contact modal will include all of the information in multiple addresses, emails, and phone numbers.
Edit or add the information in this contact as desired. The information in this contact will be the information in the final merged contact.
Save Merge
When you have edited and reviewed the contact information to your satisfaction, click Save Merge.
Note: Merging contacts is not reversible, so use caution when merging. Once contacts are merged, the new merged contact will be substituted for the duplicative contacts throughout Filevine, and the duplicative contacts will be removed.