This Advanced tool allows users with access to view the number and purpose of existing API keys in their Org, and to create new API keys directly from Filevine. The API Credentials Advanced tool makes managing API keys clearer and easier.
To view this page, you must have access to the API Credentials tool, given in the Advanced Access tab.
To read more about the details of the API, read Filevine's API Documentation.
View API Keys
To navigate to this tool, click Main Menu > Advanced and select API Credentials from the left side menu. If applicable, select the desired Org from the dropdown at the top of the page.

In the tool, you can view all the keys that your Org has generated and their purposes. This view allows users to create and manage their Org's API keys more easily. The API keys are limited to 10 for each Org.
The API keys have the following information listed in the table:
Key
API name (or purpose)
URL
User ID
User Email
Created by
Date Created
Key secrets are not listed in this table.
Create API Keys
All users with access to this tool are able to create API keys. Click Create New Key in the top right corner, and then fill out the key's purpose and click Create. (All keys are created with all appropriate scopes by default.)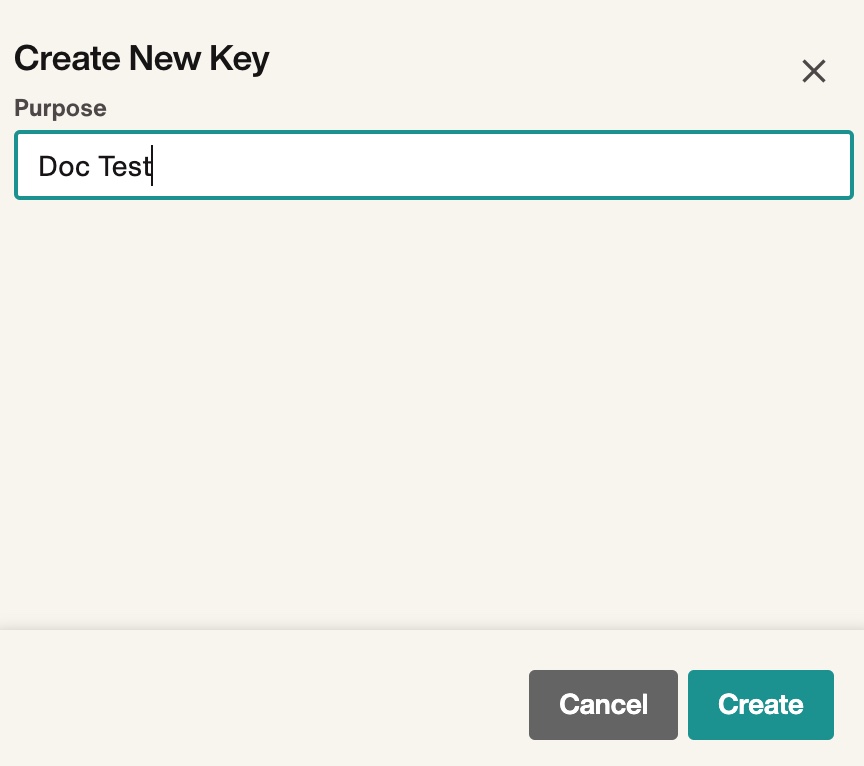 The API key and key secret will be generated.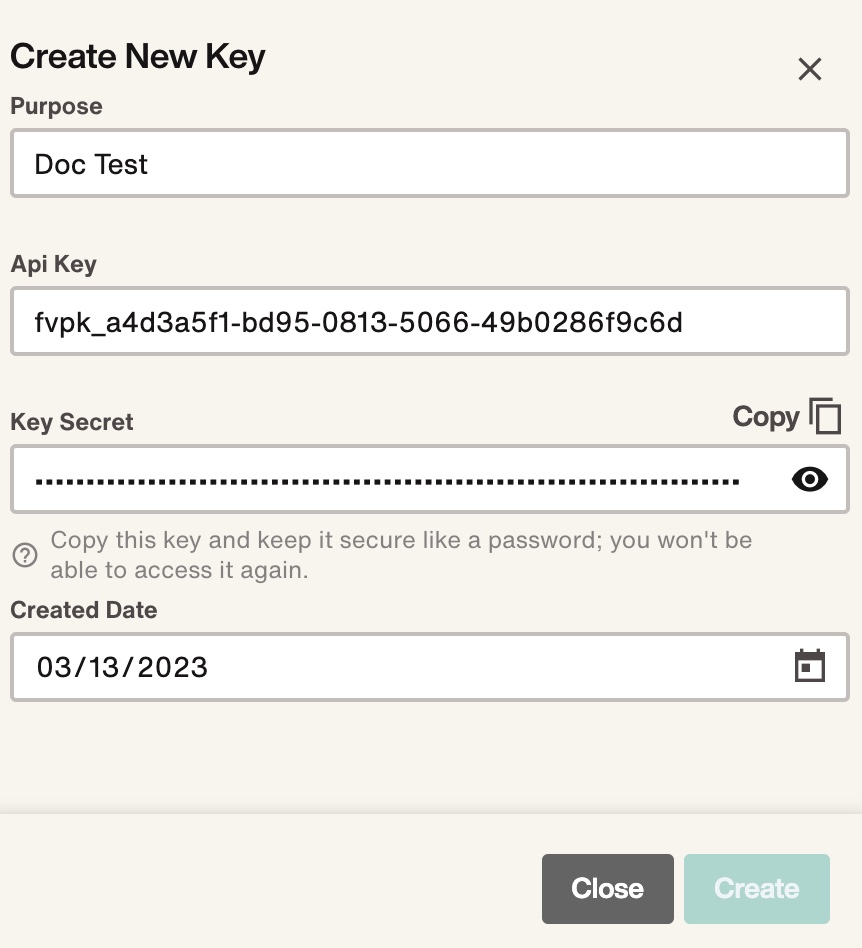 Note: The key secret will only be available immediately after creation. You will not be able to view it again once you close the flyout. Copy and keep the key secret.
Edit and Delete API Keys
To view or edit key information, click on the information icon to the right of the key in the table.
In the API Key Credential flyout, you can view the key information (except for the key secret), and view and edit the key scopes.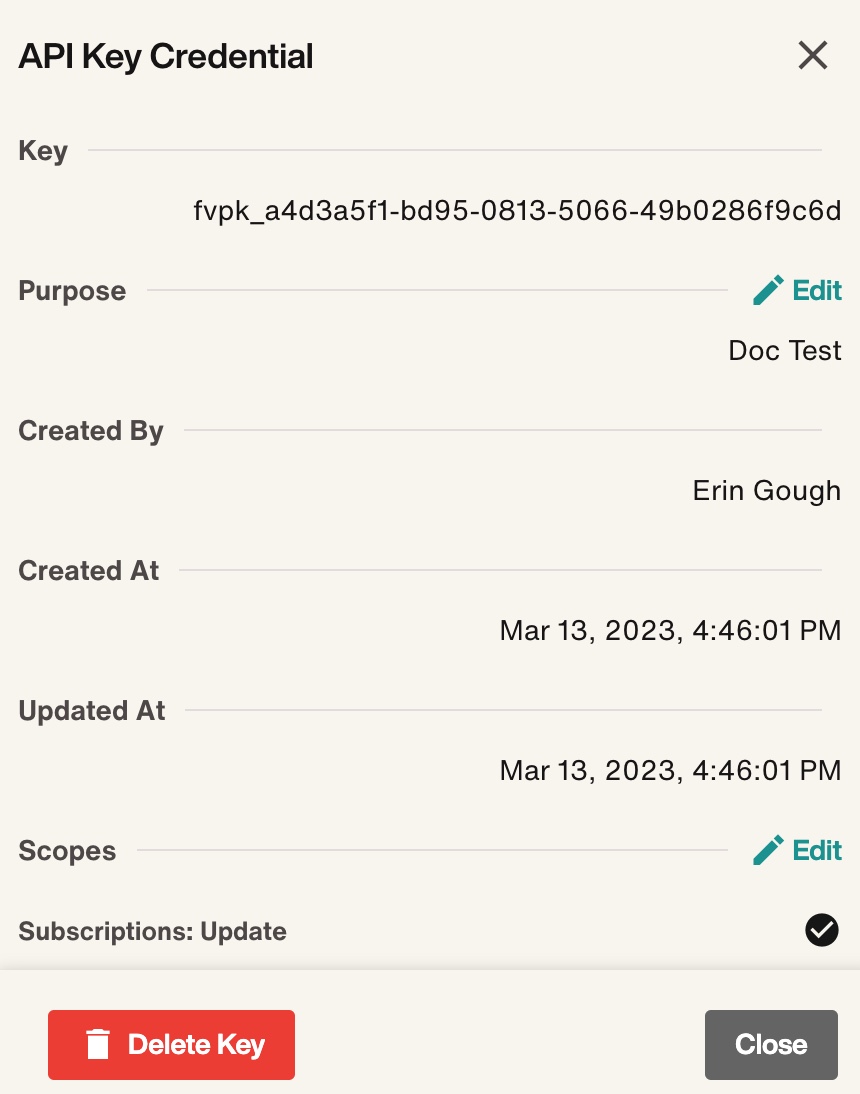 The key will automatically be created with all appropriate scopes by default. You can view and edit the scopes in this flyout. Click Edit and select or deselect the desired scopes, then click Save.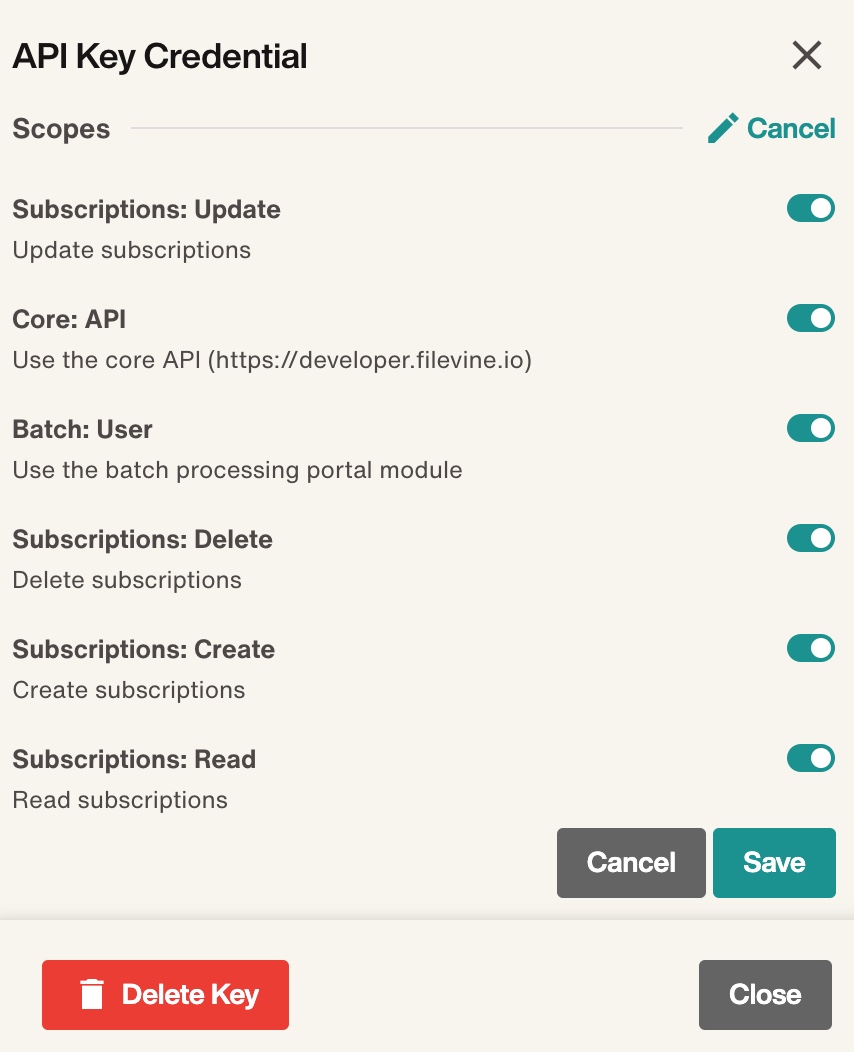 You can also delete the API key in this flyout. Click the Delete Key in the bottom left corner of the flyout to delete the key. Use caution when deleting API keys. This action cannot be undone.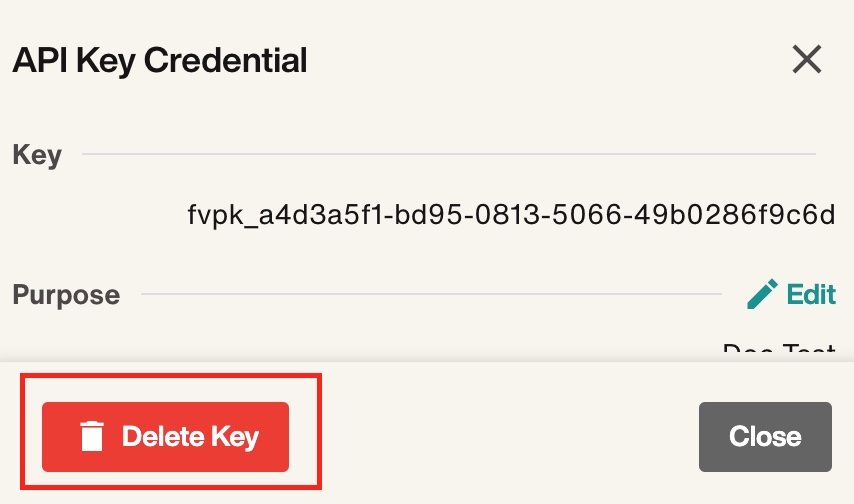 Compared to the API Portal
The in-app App Credentials Advanced tool has several differences from the API Portal in terms of managing the API.
Users can now control who has access to API key creation and view through the Advanced Access tab.
Users can view in-app when API Credentials access is created, updated, or deleted.
The tool provides more observability regarding the number of keys in the Org. In the API Portal, key information was limited to the key creator, which made it difficult to manage when the Org hit the maximum allowance of API keys.
Keys are now created with all appropriate scopes by default. (The portal required scopes to be manually applied.)