Contacts are added to person fields in Filevine, and can be viewed in a contact card module with customizable tabs and fields. Contacts contain built-in tabs as well as custom tabs and fields, which can be created in the Contacts Setup Advanced tool.
Contact cards are customizable, but all contain a contact info tab with standardized fields and an associated project tab. When you open a contact, you will see these two built-in tabs along with any additional tabs set up for your Org. Custom tabs may be dependent on the type or types of contact chosen. Learn more about creating contact types with the Contacts Setup Advanced tool.
Contact Info Tab
The first tab of a contact is the "Contact Info" tab, which is standardized across all Filevine Orgs as well as with other software you might use to store contacts. This tab includes the contact's name, company, and contact information like phone number and address. The fields are as following:
For Individuals: First Name, Middle Name, Last Name, Prefix, Suffix, Nickname, Company, Department, Job Title

For Businesses: Name

For All: Phone(s), Email(s), Address(es)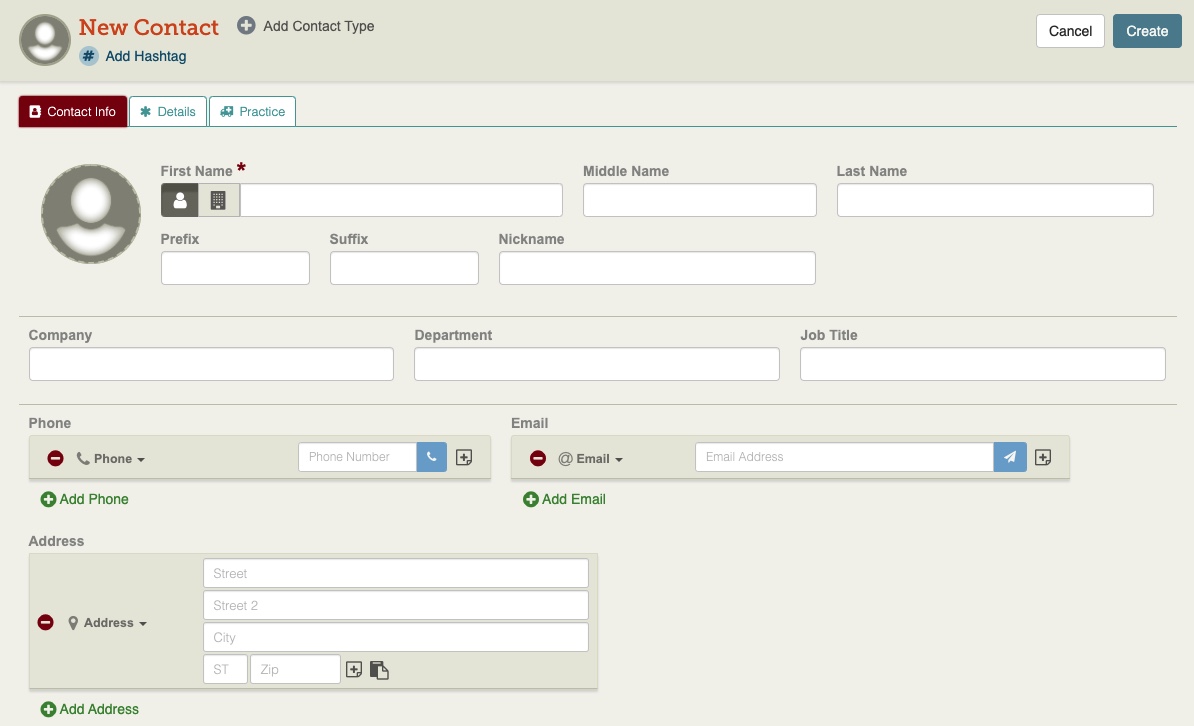 In the contacts info tab, you will be able to choose whether the contact is an individual or a business by toggling between the person and building icons. Individual and business contacts will contain different fields for names.

Date of Birth and Date and Death
If the contact type has "DOB/DOD" selected in the Contact Setup Advanced tool, then the "Date of Birth" field appears in the Contact Info tab. If the "Date of Birth" field is filled out, the contact's age is calculated and appears above the field.
Next to the "Date of Birth" field is a "Deceased" toggle, which users can use to mark the contact as deceased.

If a contact is marked as deceased, the "Date of Death" field appears. When the "Date of Birth" and "Date of Death" fields are both filled out, the contact's age will be calculated using these two dates and will appear above the "Date of Birth" field. Contacts with "Deceased" toggled on will be marked with a "Deceased" tag wherever their contact card appears in Filevine.

Phone Numbers, Emails, and Addresses
The contacts info tab includes three types of contact information: phone number, email, and address. A contact card can contain multiple phone numbers, emails, and address, and labels like "work," "home," and "cell" can be chosen for each contact. Choose the label for contact information by clicking the dropdown to the left of the field and selecting from the options. (Labels can be customized and added in the Contacts Setup Advanced tool.)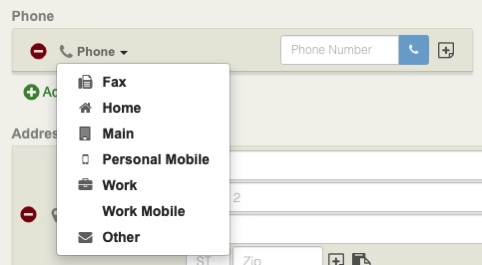 In addition to labels, each phone number, email, and address will have the option to add a note, which will appear as a sticky note next to the contact field. The note can be opened to reveal the text. Addresses are also able to be copied all together by clicking on the "copy to clipboard" icon next to the note.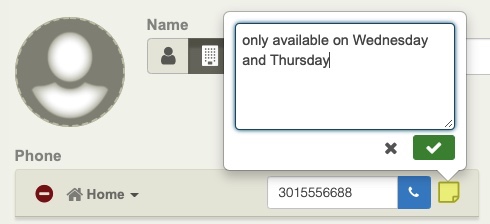 Note fields are useful for adding contextual information for contact information. For example, if a contact is only available at their work phone 10 am - 2 pm, that information could be added in the note of that phone number. Notes can be added by clicking the sticky note plus icon to the right of the field, and can be edited at any time.
If you have more than one phone number, email, or address in a contact, you can reorder them by clicking the ellipsis on the left side of an item and dragging it to the desired placement.
Associated Projects Tab
All contacts also contain a built-in tab named "Associated Projects" which will display the projects that this contact is associated with.
Contact Types and Hashtags
A contact can be one or more "contact types." Contact types are created and customized in the Contacts Setup Advanced tool. If a contact type is added to a contact, the fields associated with that contact type will be shown on the contact card.
Types can be added to a contact by clicking the plus "+ Add Contact Type" at the top of the contact card and selecting from the dropdown. Added types will display as tags.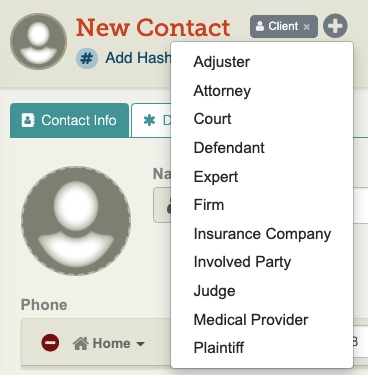 Hashtags can also be added to a contact by clicking the hashtag icon "# Add Hashtag" at the top of the contact card. Contact hashtags can be used to help categorize contacts, and are searchable in the Address Book. If a hashtag already exists for a contact, it will appear as an option to add as you begin typing.
Contact Types
Aside from the contact info and associated projects tabs, contacts are customizable. Different contacts may have different additional tabs and fields depending on their contact type.
Other tabs in a contact card will be customizable and may change depending on the contact types chosen. Learn more about how to create contact types using the Contacts Setup Advanced tool, or learn about these fields, including the comment field, which is specific to contacts.