Why should you use 2-factor authentication?
We understand that your case files are of utmost importance, which is why we have the option of adding an additional layer of security to your login experience. With the increasing threat of data criminals, your username and password are not enough to prevent hackers to access your account and your confidential files.
​
What is it?
2-Factor Authentication requires users to enter a time-sensitive security code that is generated each time you log in. These codes are sent to your smartphone via text or via Authenticator app and are only active for 20 to 30 seconds. This prevents hackers from being able to sign in without your permission.
​
How do I set it up?
Find "Setup" in the menu at the top-left corner of Filevine. Then click on "Account Settings." Find the button, "Enable Two-factor Authentication."
​


​
This opens up a window that allows you to select which form of authentication you prefer, either through the Google Authenticator app or through a text. The Google Authenticator requires for you to install the app on your smartphone. Texts are the most simple way but will incur any standard texting fees from your cell phone provider. For either option, click on the link to begin registering.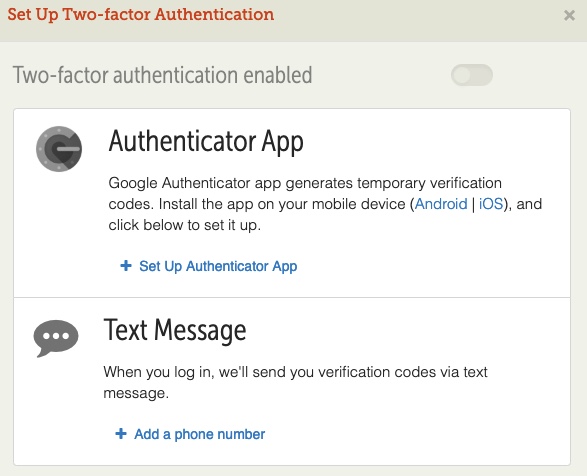 Google Authenticator App
In your phone's app store, download the appropriate app (Android or iOS). After the app finishes installing, click "+ Set Up Authenticator App" to pair your phone to your Filevine account. Using the camera on your phone, scan the QR code on your computer screen.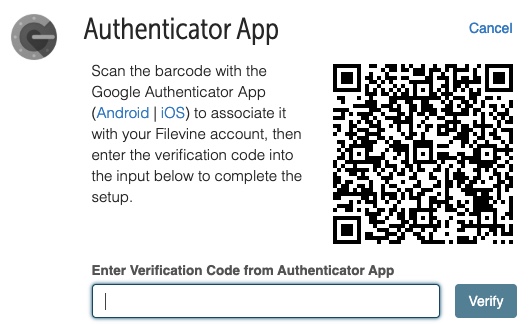 The Authenticator App will generate a new activation code every 30 seconds. Whenever you want to log in, pull up the app and enter the code provided, then click "Verify." If the code expires before you enter it in, simply type in the new one that is generated.
Text Message
By registering your phone number with your Filevine account, you will be sent the security code to your phone through a text. When you log in, you'll be sent a security code to enter on the screenshown below. Simply type in the code and click "Submit."​
​