Two-factor authentication (or 2FA) adds an extra layer of security to your account by requiring an additional method of authentication to verify your identity, like a code given through an SMS message.
You can set up 2FA using either text messages sent to your phone or codes generated on an authenticator app on your phone. Both of these methods will require you to enter a temporary code each time you log in to a new device.
Use
Once 2FA has been set up, when you log in to Filevine, you will be asked to enter a verification code. Find the code either in your text messages or in your app, enter, and hit submit.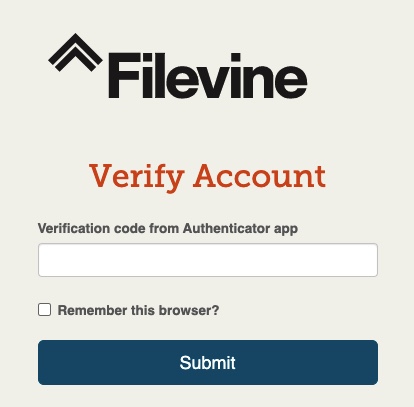 Verification codes only last 20-30 seconds. If you enter the code and receive an error, your code may have expired.
Setup
Click on your profile picture in the top right and select "Account Settings" from the dropdown menu.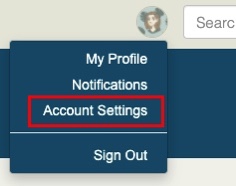 Clicking the authentication button will open the 2FA modal, where you will see the two 2FA options.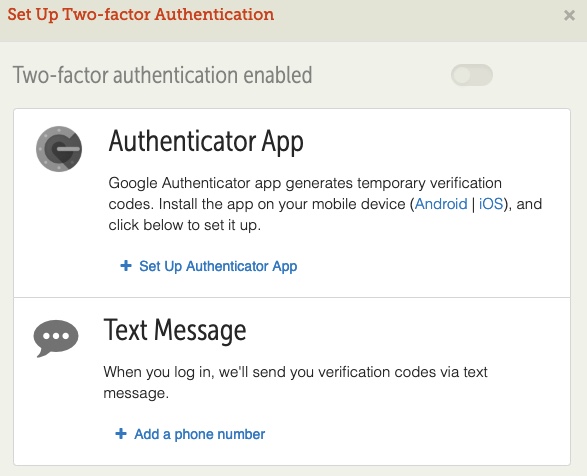 Text Message
The Text Message method will send verification codes to your phone, and will incur any standard texting fees from your cell phone provider.
For text message 2FA, make sure you have your phone on hand, and click "+ add a phone number." Enter your phone number and click "Send Text."

You will receive a text with your Filevine Code. Enter the code you receive in your text message and click "Verify" to register your phone.
Authenticator App
The authenticator app method requires you to install an authenticator app on your smartphone.
We recommend the Google Authenticator app, but there are a variety of applications you can use for two-factor authentication. Below are a few examples. Follow these links to download, or search for these or other authentication applications in the app store on your mobile device.
Install the application, open, and select "Scan a QR code." In Filevine, select "+ Set Up Authenticator App" and then use your phone to scan the QR code that appears in Filevine.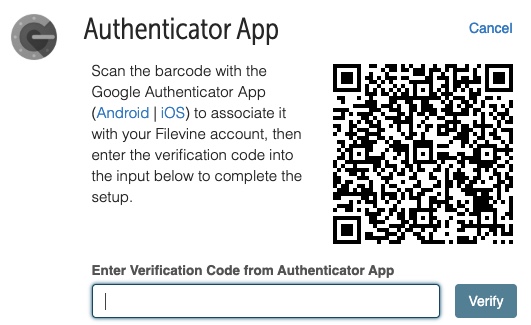 Enter the verification code from the app into Filevine and click "Verify." Your authenticator app will be enabled for 2FA.
Disable Two-Factor
Two-factor authentication can be changed or turned off in Setup > Account Settings by clicking "Set Up/Disable Two-Factor." You will be asked to enter a verification code, and then the 2FA modal will open.
You can remove the app or phone number, or toggle 2FA off at the top of the modal.
Note: If you are switching phones or phone numbers, you should disable 2FA beforehand. Then, you will be able to set up 2FA on your new device or new number. If you switch numbers or devices without disabling, you will need to contact support to turn off 2FA for the old device or number.