The search bar is located in the top right corner of Filevine. It has three main functions, each are outlined in this article: revisiting a case, searching for a case, and searching deeper.
Overview
The search bar is the primary way of locating a case when wanting to check or work on it. Clicking on any of the results will bring you directly to that case. Each result displays key information in the preview. These are also the pieces of information you can use to search for a project.
The name of the case
Who the *primary is
The incident date or date of loss
The org the case belongs to
The project type of the case
By default, the search results will not display projects that have been moved into the Archived or Closed phase. Archived projects are projects that have either been closed, referred out, dropped, or are otherwise unneeded daily use. If at any time you need to search for an archived project, simply check the box, "Include Archived" for the search to include them.

Revisit Your Recently Accessed Cases
​
By simply clicking into the search bar without typing anything, Filevine will display all of your most recently accessed cases. The cases opened most recently will be listed at the top. This is the quickest way to return to a case you have been recently working on.
Search for a Project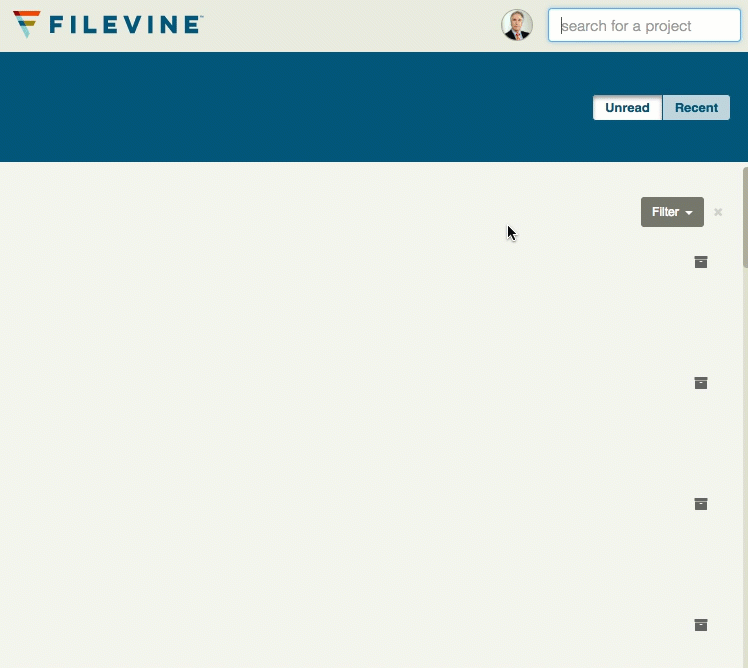 Regardless of when you last opened the case, by searching for any of the key items of information listed above, you will see all of the cases that fit that search and some that are closely related. For example, if a search entry is slightly misspelled, Filevine will likely display cases that are similarly spelled in order to help you locate that case.
​​
​​Search Deeper
To search across all cases for items in the activity section, documents section, and/or contact cards, click the button to Search Deeper. Utilizing this feature will allow you to search for any word or set of numbers in any of the following:
Notes
Tasks
Emails
Texts
Docs (by the name of the document or file type)
People (by name or contact information)
Calendar Events
​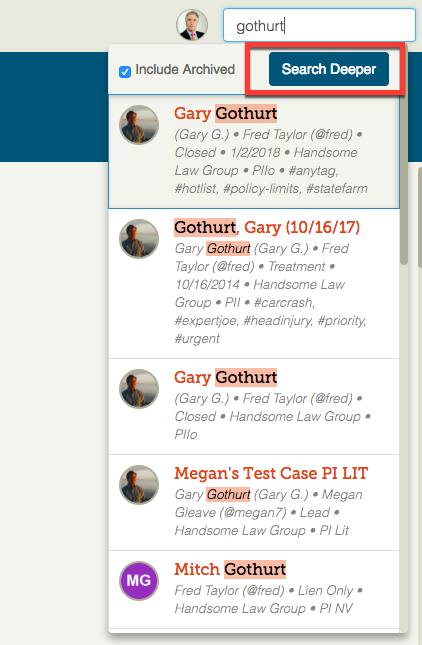 ​
If you'd like to narrow your search to only display certain results, click on the "Options" button to the right of the search bar. By default, all categories have been selected. To deselect a category, simply click on the button. Unselected items will be excluded from the search. If you'd like to only search for one type of category, double-click on it and the rest will all be deselected. To add categories back, simply click on them.