In Filevine's July What's New, What's Next (WNWN), you'll find new functionality in the Docs Section, new ways to filter items, and major updates for Vinesign.
Outlaw Announcement
Best-in-class contract management software Outlaw has officially joined Filevine. Outlaw is an end-to-end platform that automates and streamlines legal workflows, helping companies reach agreement faster.
In the coming months, Filevine will be working to create more connections between the two platforms, resulting in a better experience for all our users.
Docs Changes
The Docs Section in Filevine projects now has new functionality, including better ways to move and copy documents across projects.
Move/Copy
Users can now move or copy a document from one project to another directly from the Docs Section. Moving a document to another project will transfer that document from the current project to the one you've selected, while copying the document will create a copy of the document in the selected project. Learn more about moving and copying docs.
Doc Zipping
Doc Zipping allows Docs+ users to download multiple documents and folders in a single zipped file.

When you choose to download a zipped file, a collapsible progress window appears at the bottom left of the Filevine screen displaying any zipped downloads.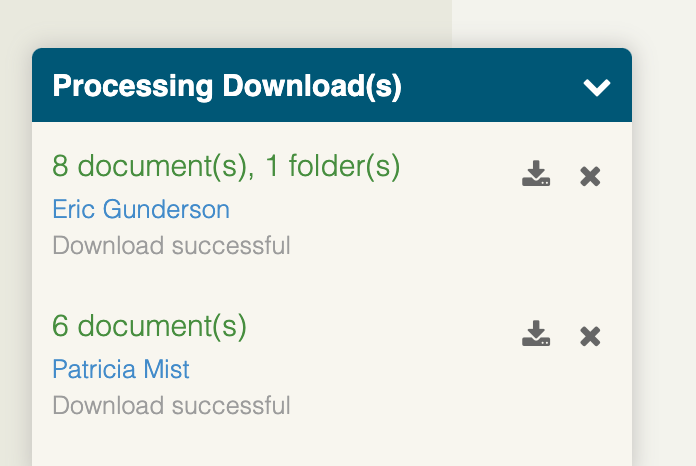 Limit to Project Contacts
Person and person list fields are often used exclusively for contacts already in the project. To make adding contacts to person fields easier, users can now choose to add Limit to Project Contacts as a default filter to the person field. Learn more about limiting to project contacts.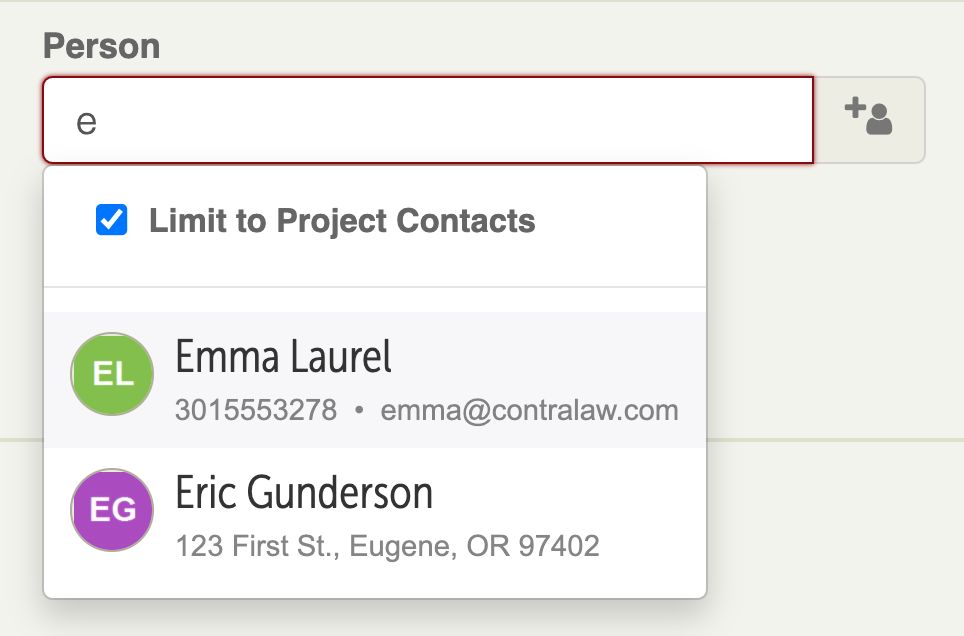 New Filters
Additional filters are now available in the User Feed, Activity Feed, and Task Page. Items in the User Feed and the Activity Feed can now be filtered by:
assigned to [user]

assigned by [user]

completed by [user]

created by [user]
Items in the Task Page can now be filtered by:
assigned by [user]

created by [user]
Outlook Extension Improvements
The Outlook Add-in offers new functionality, including the Outlook Calendar and streamlined doc attaching. Check out more about the Outlook Add-in.
Calendar
Users can now use the add-in with their Outlook Calendars. The add-in appears along the righthand side of your screen, and you can search projects and access their vitals and contacts alongside your Outlook Calendar.
Click the project email to add the project as "Optional" on meetings, and the meeting will appear on the project calendar in Filevine.
Attach Docs
Users can attach documents directly from a Filevine project to an email they are composing. Enter a document name or click through the project's folder structure to find the document you would like to attach, and click on the document to attach it to the email. Multiple documents can be attached.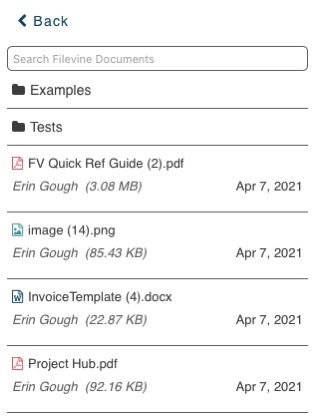 Vinesign Updates
Vinesign has released several major updates, including Multisign, which allows users to add multiple signers to a template. This section will give a brief overview of each update. Read more about the recent Vinesign updates.
Multisign
Multisign allows users to create placeholder fields and signatures for multiple signers on a single document. The document is then sequentially sent to all signers for them to fill out their placeholders.
Learn more about the updated Vinesign process.
Template Design and Review Options
The Vinesign template process has improved. Users can now:
add fields for multiple signers in a single template

manage and add signers

make custom fields read-only or required
In the Review & Save and Send pages, users have new options to:
preset signers

change signature settings
Read more on the updated Vinesign process.
Custom Messages
Customize the text and email message for your signees. The default message can also be changed to Spanish. Selecting Spanish changes the signee experience (prompts, buttons, and confirmation email) to Spanish as well.
Private Jobs and Templates
Admins can now enable private jobs, private templates, or both for any of their users. Learn how to enable privacy settings.
Lead Docket Bulk Changes
Admin users can now update lead status, reassign leads, reassign tasks, and delete tasks using bulk actions. Learn more about Lead Docket's new bulk actions.