Filevine's new Custom Contacts feature is coming soon. This feature may be subject to change. Contacts Setup is an Advanced tool and requires Org Admin privileges.
The Contacts Setup Advanced tool is used to edit the contact template used by the contacts for a Filevine Org. These contacts are linked to a project via a contact (or person) field, which can be added to a project in the Customs Editor. Customizable contact cards allow users to include exactly the information they want. Any changes that you make in Contacts Setup will require that you refresh your web browser page to see the changes go live in the contact you are viewing. Learn more about how custom contacts will look in a project.
Navigate to the Contacts Setup by selecting the main menu in the top left corner, clicking on "Advanced," and then selecting "Contacts Setup" from the lefthand menu. The Contacts Setup tool has two tabs: Contact Template and Types & Labels.
Contact Template
The Contact Template tab shows all tabs that will be included in the contact cards. If you have not yet set up any custom contacts, you will see two tabs: "Contact Info," which includes basic contact information like name, address, and contact information, and "Associated Projects," which will list all projects that this contact is associated with. These two tabs are built-in and cannot be edited.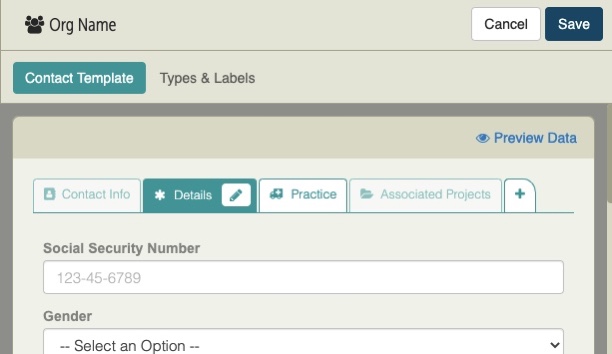 Aside from the contact info and associated projects tabs, the contact card is customizable. To customize your contacts, you will add tabs, define groups of fields, and then add the fields. Fields can be visible in all or just some of the contact types.
Add Tabs
While the contact info tab and its fields are built-in, additional custom tabs can be added. These tabs will include customized groups of fields.
To add a new tab, click on the plus to the right of the already existing tabs. Enter the desired tab name and select an icon, then click create.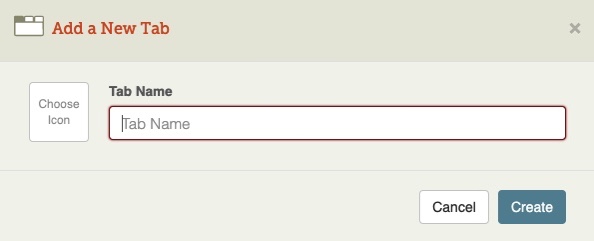 Add Field Groups
Once you've added a custom tab, you can add fill it by adding field groups and then fields. All fields will be part of a field group. Field groups help you organize and position the fields in a custom tab. The field group title will appear as a subheader above its fields.
Add a field group by clicking into a custom tab and clicking on the "Add Field Group" box.

In the "Add a New Field Group" module, you have the option to enter a name for the field group, and choose the width and border options. Each field group can take one-third, half, two-thirds, or all of the width of the contact card, meaning that multiple field groups will be able to be placed next to each other in the tab. You are also able to choose to include a border around the field group, as shown below.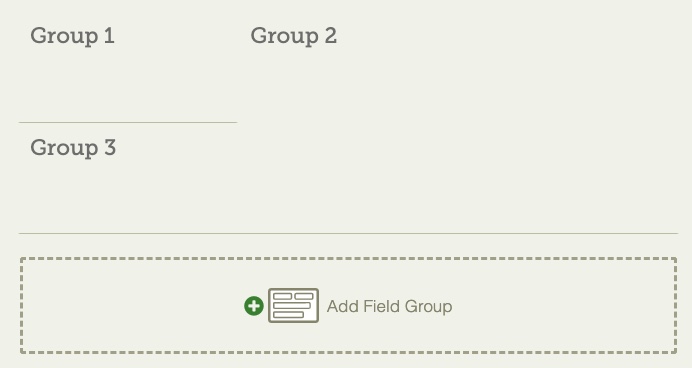 The width and border options for a field group can be adjusted at any time by clicking on the field group. Groups can also be moved around within a tab by clicking and dragging the move icon.
Add Fields
Once you have added a field group in a custom tab, you can then add custom fields by clicking the "Add Field" box within a field group box. After creation, fields can be moved within their field group by clicking and dragging.

In the opened module, select your field type. Your selection will depend on how you intend to use the field. If you want a field that can only take currency, for example, you would choose the "Currency" field. For guidance choosing the correct field type for your use, read What Field Type Should I Use?
These field types parallel the types found in the Customs Editor, with a few changes, like the addition of comment fields.
Structural: Header, Instructions
Text: One Line, Multi-line, Multi-line Large, Text List, URL, URL List
Numbers: Integer, Decimal, Currency, Percent
Links: Link Button, Contact, Contact List, Document, Document List
Toggles: Yes/No, Checkbox, Switch
Selectors: Dropdown, Multiple-choice, Multi-select List
Special: Comments, Date
Once you have selected your field type, you will then be asked to enter a unique field prompt, which will appear above or before the field in the contact. The field selector will fill in automatically.
You will have the option of changing the field width. The field width is relative to the field group width, and is also dependent on screen size. For example, two half-width fields will appear side-by-side in a full-width field group, but will be stacked in a half-width field group. If you are viewing a contact on a mobile device, all fields will be stacked no matter the width. You can also add placeholder text (depending on the type of field) that will display inside the field, or add help text, which will appear in a popup when an information icon next to the field prompt is clicked.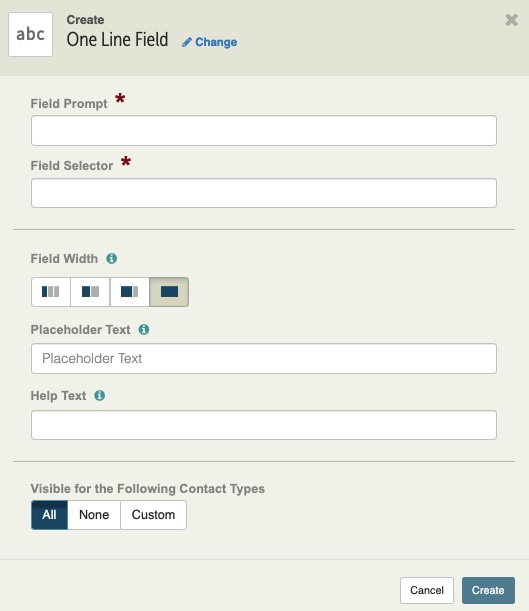 If you have multiple contact types, you will have the option to choose to make the field visible for some by not all contact types. Read the section below to learn how.
Field Visibility
If you add more than one contact type, you will have the option of making the field visible for all, none, or some of the contact types. By default, the field will be visible for all contact types. If you select none, the field will be hidden from all contacts of any type, even if there is data present in the field. Read the next section to learn more about adding contact types.
To make the field visible only for some of the contact types, in the create/edit field module, select "Custom" and enter the name of the contact type you would like to make the field visible for. Once a contact type has been added, it will appear as a tag beneath this section. You may add as many contact types under the custom option as you like.

When specifying field visibility, remember that any field marked "All" will be added automatically to any new contact types you create. If the field is marked "Custom" the field will need to be added to any new contact type it should be visible for.
Types & Labels
In the types and labels tab, users can add, edit, or remove contact types and labels for phone, address, and email.
Contact Types
Users are able to add additional contact types by clicking on the green plus button in the "Contact Types" section.

Clicking the button will open a text field. Enter the desired name of the new contact type and select "DOB" if you would like the date of birth to be visible when this contact type is selected. The names of existing contact types can be edited at any time by clicking on the text field.
Contact types can be removed by selecting the red "X" icon to the right of the contact type name. If a contact type is removed, it will remain active for any contacts of that type already existing in a project.
Once you have created a new contact type, any fields marked to be included "any" contact will be included in the type. Any other fields can be added to the new contact type by entering the name of the new contact type in the custom visibility option for the field. Read more about making fields visible for different contact types.
Labels
Labels like "work" and "home" can be added to the address, the phone number, and the email fields by clicking on the green plus button next to Phone/Email/Address Labels. You can also select an icon for each of these labels, making them easier to identify. Labels can be edited or removed at any time. When labels are edited, they will be updated anywhere they are currently being used. When labels are deleted, they will remain in any contact where they are currently being used, but will no longer exist as an option to add.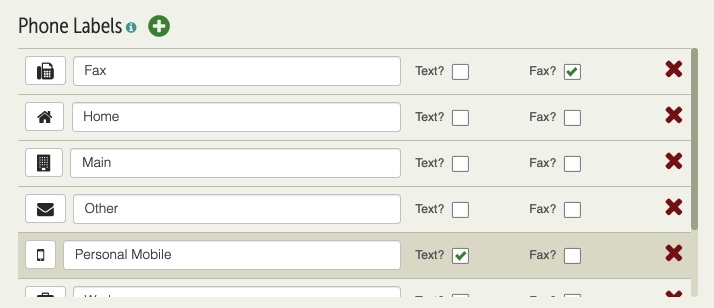 Labels will appear in the project contact as a list of dropdown options next to the contact info field that the user can choose from.