This article provides an overview of how to set up Filevine's Billing feature. To set up Billing in your Org, contact support or ask your Filevine representative. You can also watch the Time & Billing training video to learn more.
Filevine Billing is contained in three places: the "Setup Billing" Advanced section, where you will set up and set the terms for your Billing, the "Billing" Advanced section, where you are able to handle Billing at the Org level, and the built-in "Billing" section in a project type, where you will use Billing on a project level. Read the articles on Org-level Billing and project-level Billing to learn more.
Setting up Billing for your Org includes determining a rate schedule, creating a custom template invoice, choosing category and payment settings and terms, and adding a Billing section to your project type. Setting up Billing requires working with the Billing Setup section and with the Customs Editor. The first step is to fill in the Billing Setup Section.
Billing Setup Section
Billing Setup, along with project-Level Billing and Org-Level Billing, is one of the three areas where you will handle Billing. Billing Setup is a section in Advanced tools and contains four tabs: Rates, Invoices, Codes, and Access.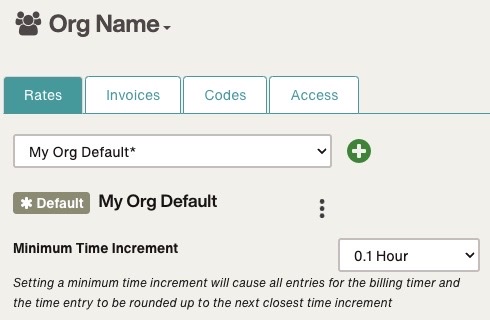 Follow the overview below to set up Billing for your Org.
Click Advanced > Billing Setup.

Click the main menu in the top left corner and select "Advanced" from the dropdown menu. Then, in the lefthand side menu, select "Billing Setup."

Create a rate schedule.

To create a rate schedule, you will assign rates to any member of the Org in the "Team Member" list and add any expenses that will be regular for this type of case under the "Expense Item" list. For information about how to enter rate schedules, hourly rates, and expense items, or about how to handle multiple rate schedules, read the

rate schedule article

.

Select rate-viewing permissions for users in the Org. If you would like to grant rate-viewing permissions to some users, click the "Access" tab and toggle rate viewing permissions on for those users. Learn more about setting up rate-viewing permissions.
Enter billing codes. If you would like additional categories for time entries and expenses, click on the "Codes" tab and enter the codes you'd like to use, along with their descriptions, and assign the tables of codes to time entries and expenses accordingly. Learn more about billing codes.
Upload a custom invoice template.

Click the "Invoices" tab in Billing Setup. Download the default template, edit it, and upload your desired custom template. Read the

Setting Up Invoices article

for a step-by-step of how to create a custom invoice template.

Choose payment settings and terms.

The invoice tab also contains a space to determine your payment setting and terms. You can choose whether or not you wish to manually apply payments, and you can add new terms and choose the default term.

Payment settings

and

terms

are explained in the Setting Up Invoices article

.
Project Setup
The built-in section called "Billing" will need to be added to a project type using the Customs Editor before Org- and Project-level Billing can be used. To set up Billing for a project, follow the steps below:
Navigate to the Sections tab in the Customs Editor.

Navigate to the Customs Editor by clicking on the hamburger menu in the top left, and clicking "Advanced." Next, click "Customs Editor" on the lefthand side. Select the project type that you would like to add this section to.

Add a Billing section. In the "Sections" tab, click "Create New Section" in the top right corner. Choose the name and icon for the section, and in the "Section Type" dropdown menu, choose "Billing (Built-in)." Click "Save." The Billings Section will now appear in projects of this type.


View the Billing section in a project.

In an individual project, navigate to the Billing section on the lefthand side. (It will appear as whatever you have named it). This built-in section contains a summary, a space to fill in times and expenses, and settings. Learn more about this section in the

project-level Billing article

.