Hashtags are words preceded by the "pound" or "hash" mark like this: #example
Hashtags are commonly used in social media to help categorize posts into topics. A person wanting to see all posts about a certain topic can search for that hashtag to get comprehensive results.
Similarly, Filevine allows for hashtags in not just activity such as notes and tasks, but also on documents and entire projects.
Tagging Projects
Here's an example of tagging a project
​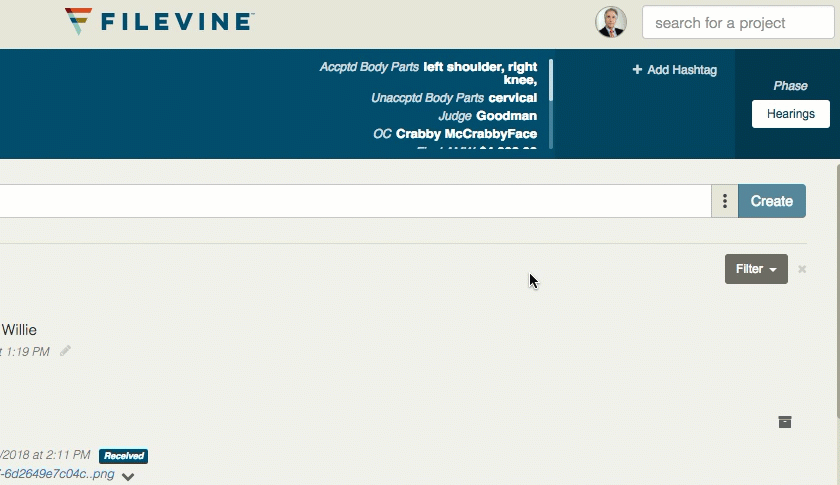 In this example, the user tags the project as "urgent." This may be useful for the user when she wants to run a report of all urgent projects.
You might use hashtags to tag a project as important, or notable. Some firms use hashtags to indicate when a project is a "lead" or in some other status for which phases are not appropriate. You can also use tags to designate "parent" cases or "main" projects versus "subordinate" ones.
If you click on a hashtag on a project it will automatically do a search of all projects with that hashtag. This will help you quickly view all the projects with a certain hashtag.
You can also run a report with a hashtag as the limiting criteria. This means you could easily run a report of all cases with #lead.
Because hashtags can be added and removed on the fly, this report is dynamic. Whenever you add "lead" to a new project it will appear in this saved report. Whenever you remove the "lead" hashtag from a project, it will no longer appear in this report.
Reports using project-level hashtags like this are also useful because they don't care about project types or what organization it is. This means that if you have, for example, leads in personal injury project types AND in medical malpractice project types, you'll be able to see all of them with one simple report.
Tagging Documents
Documents can also be given hashtags in Filevine. Imagine being able to search for every motion, or every invoice, or other important documents no matter what the file title is. Obviously, this is a huge deal and gives you much greater ease of use.
Additionally, you can treat the hashtags like a folder structure. Tag all medical documents with "meds," tag all insurance documents with "insurance" and so on.
You can tag documents in the "Docs" section directly by clicking the "+ Add Doc Hashtag" link below each document title. Here is an example of a user adding multiple hashtags to a document in the docs section.
​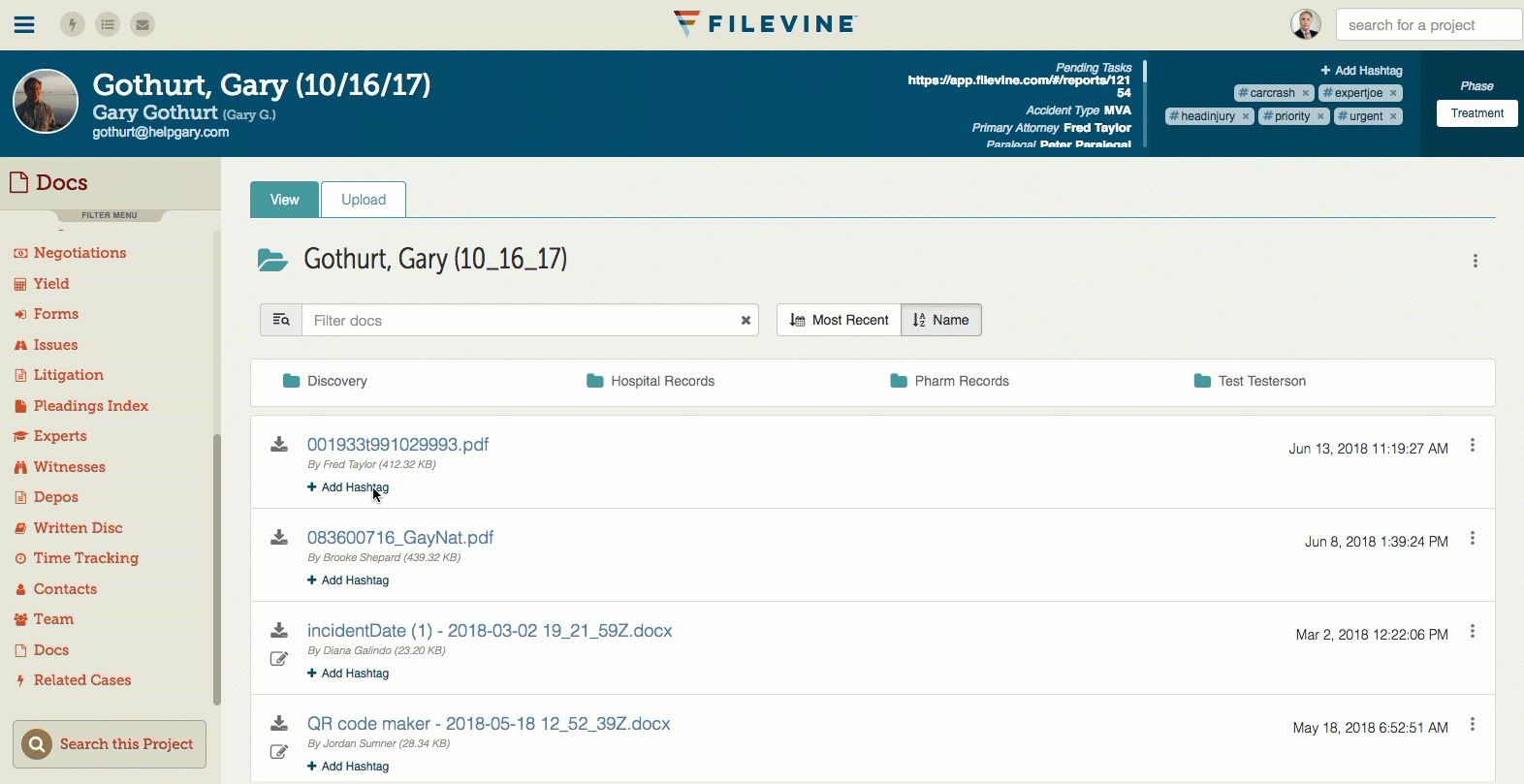 ​
This user will be able to find this document by searching for "meds", "bills" or "treating".
Tagging your documents can let you create much more powerful reports and searches. For example, you might search for all medical documents, then narrow it down to just invoices, then just invoices from a single provider.
Hashtags in Notes and Tasks
Hashtags can be used in regular notes and tasks to help you categorize and analyze your communications. For example, you may want to prioritize a task with an #important hashtag, or maybe track excellent work done by your team with a #wow hashtag.
However you decide to use in-text hashtags, it's a simple as typing it. As soon as you type a space the tag ends. #tryitnow.